Sony Vaio VGC-LA1 all-on-one PC
Stylish slimline desktop wonder?
Usability is a slightly different matter as the screen is rather on the small side for TV duties unless you're sat quite close. Sony has installed Windows XP Media Center Edition 2002 SP2 which is entirely appropriate in this application, but there's no avoiding the fact that the MCE remote control is intended for use with Microsoft's 10ft interface. We found it necessary to be considerably closer to get the full benefit of the picture. Plonk the LA1 on your coffee table and you'll find that it looks great but then we come to another annoyance: the optical mouse and keyboard, both wireless. These both look the part but we found the mouse was horribly erratic on anything but the smoothest surface. And we've no idea how you'd use it as you lounge in your armchair. The LA1 is crying out for a wireless keyboard with a trackball or touchpad, rather than a separate mouse.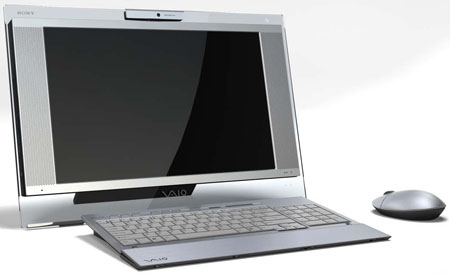 Sony has loaded the LA1 with a stack of software including InterVideo WinDVD 5, Microsoft Works 8, Roxio, Photoshop Elements 4.0, Premiere Elements 2.0 and SonicStage Backup which are all quite usable. You also get Norton Internet Security 2006 which wouldn't be our first choice of security software, or even our second. Or, thinking about it, our third.
On the Start menu there's an item called Internet Service Providers for VAIO which consists of AOL, BT and Orange, and on the desktop there's an icon to run a set-up to install AOL 9 yet the Norton Security software warns that "Norton Antispam doesn't support AOL Mail", which indicates a lack of joined-up thinking.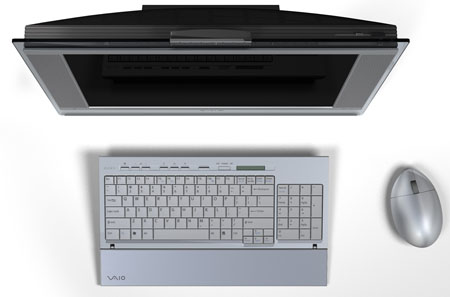 Sony also includes a 60-day trial of Microsoft Office 2003 which is a free download from Microsoft and presumably costs Sony nothing whereas we would hope that a £1,499 SRP PC that sells for £1,399 on the street would ship with a full version of Office.
In another bit of cross-marketing the screensaver triggers a trailer for the new Bond movie Casino Royale. It's fun the first time or two but when all is said and done this is an advert for a Sony movie on your brand new home entertainment system, and that's a diabolical liberty.
Verdict
Sony has engineered a superbly attractive piece of kit in the LA1 but at this price point we expect something that is far more serious and ideally has a larger screen. As things stand the price would need to come down significantly to make the LA1 really appealing to anyone who values performance and functionality over looks. ®

Sony Vaio VGC-LA1 all-on-one PC
Truly a stunner - if you don't mind the high price and average spec...
Price:
£1,399 inc VAT RRP