EMC goes whole hog with hardware upgrade
Shows its metal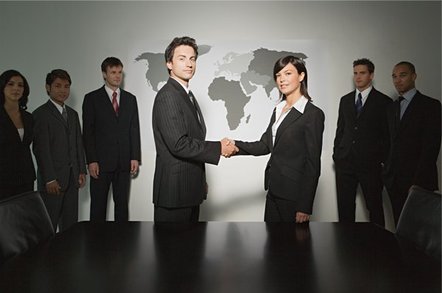 EMC has gone brash and bold with its latest product rollout, pumping up all of the company's main hardware lines.
Big spenders will find new Symmetrix boxes, while the mid-tier crowd receives a fresh Clariion. Away from this core kit, EMC has also pushed out a new virtual tape library system and a number of Celerras. The influx of gear proves that EMC still loves its Big Iron despite spending so much time acquiring software companies.
To emphasize its hardware prowess, EMC managed to secure a canned quotation from an analyst.
"It is impressive that EMC is providing concurrent improvements to four of its major storage system product lines," said Tony Asaro, senior analyst at the Enterprise Strategy Group. "End user companies know that they can go to EMC for any type of storage system whether it is enterprise-class, midrange, NAS or VTL."
We're sure you didn't know that before Asaro pointed it out.
Anyway, on to the products.
With the DMX-3 model 950, EMC has put out its latest take on driving Symmetrix down market. The system will replace the DMX800, making it the lowliest box in EMC's DMX-3 SAN (storage area network) line.
Overall, the system brings improved performance and more capacity. It can hold between 32 to 360 drives (both 300GB and 500GB in the same system) and ships immediately.
EMC bills the system as an answer for remote data centers. In particular, data centers suffering from space and power constraints could benefit from the kit. When packed with 300GB disk drives, the 950 eats up 10 per cent to 30 per cent less electricity than similar gear from rivals, according to EMC. Fill it with 500GB Fibre Channel drives, and the 950 beats out the power efficiency of Hitachi's XP12000 and IBM's DS8300 systems (with 300GB drives) by 70 per cent. Or so EMC claims.
Over on the Clariion front, EMC has married Fibre Channel and iSCSI inside of its new CX3 UltraScale systems.
The Clariion CX3-20 and CX3-40 both hit the midrange with "end-to-end" 4GB/s Fibre Channel and iSCSI support. The CX3-20 can hold between 365GB and 59TB worth of disk and support 128 hosts, while the CX3-40 stretches up to 119TB and supports 128 hosts.
Perhaps more importantly for some, EMC has added the Navisphere Quality of Service Manager (NQM) software for the Clariions, which opens up some application performance tuning and service level monitoring options. EMC also tossed in some new configuration wizards for Navisphere that are said to make the software much easier to use.
Over in fake tape country, EMC chucked out the Disk Library 4000 Series virtual tape library. This product replaces the DL700 Series kit EMC started hawking in 2004.
All told, the DL4100, DL4200 and DL4400 systems can reach up to 340TBs of capacity and sustain 2,200 megabytes per second of overall performance. Once again, you get end-to-end 4Gb/s Fibre Channel goodness.
EMC has also worked to add built-in management ties with Veritas NetBackup. The new VTL gear ships next month.
Lastly, we come to another 4GB/s dynamo in the Celerra NS40/G and NS80/G Series systems. With the NS40, you get between 16TB of 32TB of storage space, while the NS80 hovers between 20TB of 60TB. Both boxes rely on the new X-Blade 65 server, which supports 10Gb Ethernet.
In actual fact, EMC has flogged the NS40 since August. The NS80 ships next month.
Now back to buying ISVs. ®
Sponsored: Minds Mastering Machines - Call for papers now open