Sun in a box and IE7 out of the box
To subscribe to The Register's weekly newsletter - seven days of IT in a single hit - click here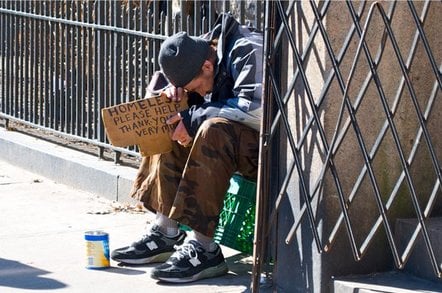 Vodafone walks own path
The trouble with the technology business is that no sooner is there a bandwagon then everyone is on it. So it's nice to see a company ignore what the rest of the industry is doing and walk its own path.
While every mobile phone company is keen to sell us broadband services, cable telly, video messaging, and a nice holiday in the Ardeche it's refreshing to have Vodafone stick to its knitting. The only trouble is some of its investors aren't convinced by the "strategy" - or even if it is a strategy at all.
Part of these changes emerged this week with the departure of the company's chief technology officer and predictions of more job cuts to come – including that of chief executive Arun Sarin. Cost cutting will also mean less Maseratis in the Reading car park.
The other change emerged last week when the company ended its agreement with Carphone Warehouse. In the future, Vodafone contracts will be available in only one High Street shop – Phones4U. What a business provider has in common with the chav-tastic Phones4U we're not exactly sure...analysis and wild predictions available here.
Dangers of the net
Back in the olden days of Bubble 1.0, you couldn't move for people telling us how dangerous the internet was. So it was with a warm glow of nostalgia that we heard US homeland security chief Michael Chertoff telling British police officers that there is now "a capability of someone to radicalise themselves over the internet". More musings on terror by email here.
And the European Commission is getting in on the act too. Franco Frattini, Justice and Home Affairs Commissioner, is looking at how to rid the web of nasty websites and other sources of information potentially useful to terrorists. Like much EC policy this sounds like a laudable aim but gets a little tricky in practice. Setting up an equivalent to China's Great Firewall would be expensive, ineffective, and against any ideas of liberty or freedom of information and expression.
Dabs for kids
In our day kids got inky fingers from using pens...nowadays it comes from having your fingerprints taken. Conservative and LibDem MPs are getting behind a campaign to stop schools fingerprinting kids. They might as well enjoy their freedom before rule changes for European passports mean all children will get their dabs taken anyway.
Sun's data centre in a box, well, a shipping container...
If your company is short of space but has a car park, Sun's latest launch could be for you. Apparently aimed at the underserved trailer park market for utility computing, it is a data centre in a shipping container... So, as long as there's room in the car park and you have electricity and water, you're all set. No more talking to cooling companies and finding space in your server room.
Microsoft launches are go
The next few months will see an orgy of Microsoft releases, if the European Commission can resist the temptation to rain on the parade. First up this week we had Internet Explorer 7 which hit the road a little. It's available now if you're keen, or there's more details here on MS's first browser update since 2001.
Despite IE7's much-vaunted improved security a flaw was spotted a few hours after release.
Farmers feel the pain of government IT
Another week, another government IT screw up. This time it's farmers who suffered. The National Audit Office – one of the few government institutions to actually ask questions of government IT stuff-ups – published a report into why the payments agency failed to meet its targets. Creeping changes to the specification of the project after it had started contributed to its failure.
TVR quits UK
You might have thought the UK car industry had already left the country, but this week saw another manufacturer throw in the towel. Contractors' favourite TVR is off to mainland Europe and abandoning Blackpool, its home since 1947. And who knew TVR's name was taken from the first name of its founder, Trevor Wilkinson? Trevor?
Panto season already
Well it's nearly Christmas so it shouldn't be a surprise to hear the choruses of "Yes, he did..." "Oh, no he didn't!" ringing out. Microsoft continues to say it's working with security companies and giving them full access to Vista. But the security companies keep saying it ain't so. It's trial by press release with the European Commission acting as referee.
But the last thing Microsoft wants to see is yet another delay to Vista – we've given up counting how many times this release has missed a deadline. Round One McAfee, Round Two Microsoft, Round Three...errr...
Storage Expo a go-go
This week also saw Storage Expo – a local show for local people.
Somerset start-up keeps it simple,
A cunning plan from Boston, Hertfordshire,
and a Flash solution to hard drives.
And don't miss the beard-based analysis of the show.
Symbian show
This week's other show was for mobile operating system Symbian. What does mobile VoIP mean for the future of mobiles? Will the US catch up? And when buzzwords go bad: Web 2.0 vs Mobiles.
Quarterlies season
It's results season for the web giants this week and eBay was up first. It posted strong results helped by payment service PayPal, which grew revenues by 41 per cent.
Good news for Google too, but good news for Google meant bad news for rivals - Yahoo! grows but not enough. Not exactly financial results, but close.
Gartner's look at hardware shipments had a surprise at the number one position with HP taking top spot over Dell.
Other news...
Elbow/painting interface proves expensive
Nailgun meets testicle
Reuters sends reporter to Sadville
That's it from us this week, thanks for reading. ®
Sponsored: Minds Mastering Machines - Call for papers now open