Abit AW9D-Max 975X-based mobo
Abit rises from the ashes?
In addition to the USB/Firewire bracket, the AW9D-Max also comes with a full set of seven SATA cables, an optical S/PDIF cable with a 3.5mm connector at one end and a normal Toslink connector on the other, and IDE and floppy cables, both of the rounded type. Abit also supplies an SLI bridge connector, but I wouldn't read too much into any future SLI compatibility of the AW9D-Max, at least not in the short term.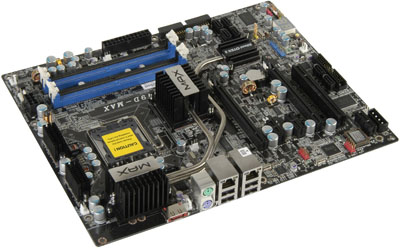 Performance was very good, outperforming the Intel's own 975X-based D975XBX by a small margin in SYSMark 2004SE. It's also ahead in most of the benchmarks in PCMark 2005, although for some reason the hard drive score is slightly slower. The 3D benchmark numbers aren't half bad either and show off the potential of the AW9D-Max.
However, this is where we ran into a snag, as adding a Radeon X1900 XT CrossFire master card caused some very strange benchmark results. This seems to be a BIOS issue with the AW9D-Max as we've not come across this in any other 975X boards that we've tested. In all of the tests the results dropped below 50 per cent of the single-card scores, so there's something seriously odd going on here. Hopefully, this is something Abit will fix quickly, as it makes the AW9D-Max a bad choice for anyone considering a CrossFire setup.
Despite the CrossFire issue, the AW9D-Max is a decent board, although it can't quite compete in terms of features with the high-end Asus boards. At £150 it's also a rather expensive board with most competing products being £10-20 cheaper. Nonetheless, the AW9D-Max shows that Abit is back and eager to try and reach the top again.
Verdict
The Abit AW9D-Max is a very good motherboard, although there's an issue with CrossFire performance, the price is quite high and the connector layout could be better. At least you get quite a feature-rich board for your money. ®
Sponsored: Minds Mastering Machines - Call for papers now open

Abit AW9D-Max 975X-based mobo
Feature-filled and fast - as long as you're not interested in CrossFire configurations...