Bigger, longer, uncut: Oracle OpenWorld
Ellison holds hands with Sir Elton John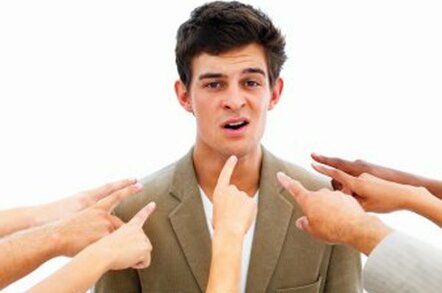 After two years' buying other people's companies and merging Oracle World and Oracle Apps World, it can safely be said Oracle's annual call to Mecca has outgrown itself.
Next week's Oracle OpenWorld (OOW) 2006 will be a ringing testament to Oracle's enduring power and will also demonstrate just how much a growing tide pool of open source minnows must fatten before they can even start to worry Oracle.
More than 40,000 delegates will flood downtown San Francisco's hotels, restaurants, and transport system, drawn from the developer, customer, and partner ranks of the 21 companies Oracle bought since January 2005 plus those using Oracle's own middleware and applications.
Keynotes from no less than the four chief executives, one chairman, and one president of some of tech's biggest and best known companies are scheduled.
Playing their roles will be AMD's Hector Ruiz, Cisco's John Chambers, Hewlett-Packard's Mark Hurd, and Sun Microsystems' Jonathan Schwartz, plus Dell chairman Michael Dell, and Network Appliance president Tom Mendoza who will no doubt pay some kind of homily to the power of their relationships with Oracle on servers, virtualisation, and software (just don't mention NetBeans, Jonathan).
Even the entertainment is big: forget cult favorites like Violent Femmes and boring middle of the road jobs Train from previous years, it's the rocket man himself Sir Elton John.
Obviously, these are mere warm-up men for the main event - a Wednesday performance from the sharpest showman in town, Oracle CEO Larry Ellison. If past experience is an indicator of future performance, expect Larry to draw up a stool and engage in the kind of lengthy and eminently quotable Q&A sessions with audience members and reporters that make his PR people squirm.
You can expect some serious talk. You should get the hard sell on Oracle's Fusion Middleware strategy, service oriented architectures, Oracle's "lifetime" commitment to the applications it's bought, and plan for some juicy teeth marks to get left on SAP's butt.
While the talk this week has been a re-tred of Oracle launching its own Linux, it will be more interesting to see whether Oracle picks up the pieces of its InnoDB and Sleepycat purchases and finally announces a decent open source strategy.
All in all, this year's event promises to be bigger than 2003 when a bomb threat to the show saw thousands of blinking and confused Oracle attendees vomited onto the streets of San Francisco, and Oracle's New Orleans show where ex-US president Bill Clinton keynoted and was rumored to have hit the town afterwards with Larry during Mardi Gras. ®
Sponsored: Minds Mastering Machines - Call for papers now open