Silver Peak climbs to new record
It's ice-axes at dawn for WAN acceleration rivals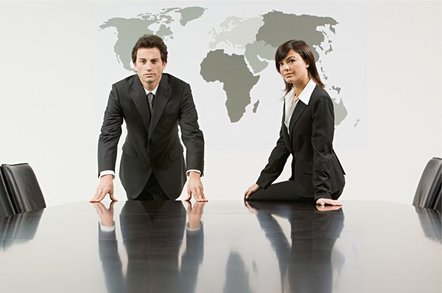 Storage Expo Silver Peak claims it's retaken the high ground in WAN optimisation by adding a model which it says is capable of processing up to 500Mbit/s with all its acceleration features turned on. Previously, its range topped out at 155Mbit/s.
The NX-8500, which costs around £70,000, uses the same software as Silver Peak's other boxes, according to marketing director Jeff Aaron, but has more processing power and up to 7TB of hard disk cache.
It follows Juniper's launch earlier this week of a similar box, capable of handling a 45Mbit/s WAN link, and by Riverbed in August of a 310Mbit/s box.
Aaron claimed that not only was the NX-8500 faster than the competition, but: "We are the only solution doing data reduction on non-TCP traffic - the others only do QoS on UDP, and we have no artificial limit on the number of TCP flows."
Silver Peak also announced a secure content architecture, which it claimed will provide "a framework for end-to-end security and data privacy in an accelerated WAN environment." The company said this includes data encryption and peer authentication between NX appliances.
Aaron said while other systems do not encrypt the data that they cache on the hard disk, the NX-8500 includes hardware-based 128-bit AES encryption.
"We are still the only major vendor doing disk encryption," he said. "We took a competitor's box, pumped War and Peace through it, then did a Grep search for common phrases and were able to pull them out."
One thing Silver Peak cannot yet do - unlike rival vendor Blue Coat - is accelerate SSL flows, and Aaron said that feature was next on the list. He claimed too that Blue Coat caches the decrypted flow data on the hard disk without encryption, and that it has no hardware acceleration for the encryption process.
He added that, following a recent round of consolidation which saw Citrix swallow Orbital Data, the WAN acceleration business is looking healthy.
"The success of the Riverbed IPO has raised the tide for everyone in this business," he said. "We are in some ways the only start-up left - that makes us more attractive to some partners.
"Mid-tier multinationals are increasingly using WAN acceleration to break down barriers between geographies. The Fortune-500 companies are just starting to look now, it's trials and tenders, not full deployments.
"Some of the tenders we've got are 50 pages long. We can tell they're outsourced to consultants, and they're justifying themselves with a long document that no one's ever going to read." ®
Sponsored: Minds Mastering Machines - Call for papers now open