Shuttle XPC SN27P2 small form-factor PC
Build-your-own AMD Socket AM2 box
We spent a few seconds in the BIOS but there are very few options to distract you and certainly very little to attract the overclocker. Once Windows was installed I was unimpressed by the rather basic Shuttle driver CD as it doesn't have a 'one click' installer and neither does it include the AMD dual-core CPU driver or a Windows-based BIOS updating utility. Other motherboard companies such as Gigabyte and MSI do a far better job in this respect.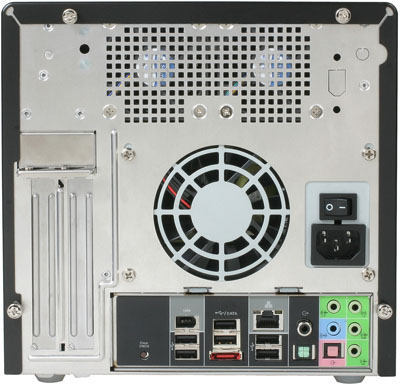 Performance was good without being astounding. We got 5,692 in PCMark05. Swapping the graphics card for a double-slot ATI Radeon X1900 XTX bumped the score to 6,014 marks and then it increased further to 6,153 marks when we installed a single-slot Asus EN 7950GT card. More to the point, the Shuttle handled the swaps without any trouble and was cool and fairly quiet throughout our testing.
There's no doubt that the Shuttle would handle LAN party duties with aplomb as it's a fully featured PC that is easy to transport. However, it's also perfectly suited to replace a regular tower PC. Clearly this is a style statement as you're paying a hefty premium for the smaller, more stylish box, but it has the (small) bonus that you'll be able to reach the ports on the back of the Shuttle almost as easily as you can reach the ones behind the drop-down flap on the front. In total you get eight USB 2.0, two Firewire and an eSATA, which is better than almost any PC on the market. The only downside is that there are no PS/2 ports so you'll need both a USB mouse and a USB keyboard.
While a small, stylish PC may seem like the ideal candidate for a media centre PC that sits in your living room, I feel that such a PC ought to be completely silent and in that respect the Shuttle doesn't quite fit the bill. Ah yes, the bill. We mentioned that the SN27P2 is expensive but in truth it is very, very expensive. A penny under £320 is a great deal of money for a case, power supply and motherboard, so by my reckoning you're paying about £200 for the hardware and £100 for some very tidy styling.
Verdict
I like the Shuttle SN27P2, really I do, but it has a fundamental flaw which is that the Athlon 64 X2 has for now been surpassed by Intel's Core 2 Duo. In the event that you want to go down the AMD route you have to deal with a fair amount of heat, and while Shuttle deals with the problem admirably the result is a PC that's a little noisier than I'd like. And although it's superbly constructed, the Shuttle is too expensive. ®

Shuttle XPC SN27P2 small form-factor PC
A stylish system for AMD's latest processors, but too expensive for what you get...