NetApp mounts up for virtual tape land grab
Big rivals still playing catch-up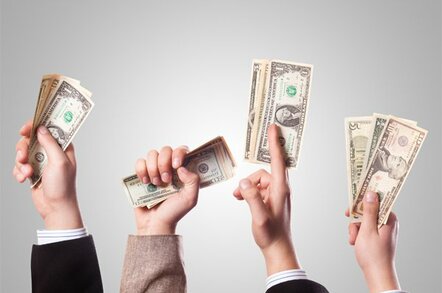 Storage Expo NetApp punted a new virtual tape library (VTL) offering today, as it continues to perform noisy running bombs into a growing pool of custom the really big lads have so far just dipped a toe into.
A trio of Nearstore VTLs will go up against EMC's Clariion VTL range, aimed at mid to enterprise-class storage operations. NetApp reckons its whizzy hardware compression technology will cut two thirds off the cost of disk to disk backup for high performance customers versus VTL competitors, most of whom use OEM FalconStor technology.
The new VTL300, VTL700 and VTL1400 are the second generation of the meat from the acquisition of Alacritus in April 2005 and are designed to work with all the common frontline boxes from EMC, HP, et al.
VTLs are designed to slot into existing storage infrastructure, either as an extra layer of faster access storage between the primary layer and the tape archive, or replacing tape altogether.
NetApp systems consultant Mike Walters told The Register most interest in VTLs is still coming from enterprise folks looking to turbocharge the lag between tape and the server. Fewer more daring types are doing away with tape all together and using a twin VTL arrangement, where one layer archives to the other.
NetApp is working with backup vendors to enable their software to use Nearstore VTL "shadows" to restore tracts of data. Think the "restore" function in Windows recycle bin, but bigger and cleverer. NetApp will have to wait for a round of backup software refreshes in the next six months or so, however, before it can begin touting that as an extra layer of protection.
NetApp's new kit is available now for those willing to part with upwards of $99,999.
EMC made the telling acquisition of the VTL bits of Neartek last month. Things look set to get more tasty once EMC starts milking Neartek. ®
Sponsored: Minds Mastering Machines - Call for papers now open