EMC plots essential centralised decentralisation
Moving on from cupboard fitting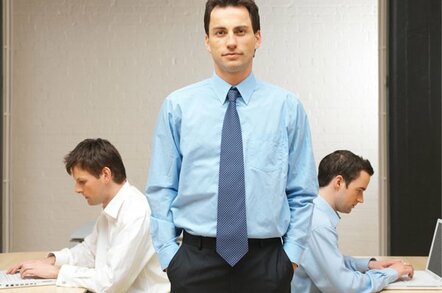 EMC's Tuesday job cull would have been long expected by many in the company.
The firm has splurged $10bn in three years implementing Joe Tucci's grand vision of EMC as the go-to-guy for information lifecycle management. After two inventory misfires in a row, yesterday's results will be viewed as a qualified success by Wall Street, if not by the 1,250 staff set for the dumpster.
At Storage Expo today in London, EMC's top UK marketeer Nigel Ghent said the numbers showed the firm was "back on track". Tucci had issued mea culpas for Q1 and Q2, when EMC failed in the fairly fundamental task of operating an effective warehouse.
According to Ghent, more acquisitions are "a given" for a firm in EMC's diversifying role, though the widest holes in its rapidly broadening strategy have been patched. He said: "What Joe Tucci has done is do what he set out to do in 2002 and plug those big gaps."
Headway indeed seems to be being made in tackling the fundamental vulnerability of its old business model: putting other firms' hardware in fancy cupboards. It remains a huge part of what EMC does, but some 54 per cent of revenues are now delivered by software and services divisions. "We're competing with basically everybody," Ghent said.
EMC's other cultural problem stems from its heritage and status as one of the last conservative east coast IT giants; its geographic market exploitation has never matched HP's. EMC pulls 60 per cent of its revenues in the States, while at the very least 60 per cent of the market is away from home turf. HP realised this years ago in happier days, and continues to enjoy a more evenly spread haul.
Tucci excused wielding the knife yesterday with a need to centralise corporate functions. He and the rest of the board know the opposite must happen for EMC's business functions. ®
Sponsored: Minds Mastering Machines - Call for papers now open