PowerColor ATI Radeon X1950 Pro
Way better price:performance than its predecessor?
So what about performance? Well, the X1950 Pro is apparently and perhaps oddly meant to target Nvidia's GeForce 7900 GS. However, looking at the benchmark numbers it seems like it can give quite a few of Nvidia's cards a run for their money.
Considering that ATI is quoting a typical retail price of £119-129 inc VAT here and $199 in the US, the X1950 Pro is going to be an extremely well-priced card. At this price point, it is indeed comparable to the 7900 GS. However, the PowerColour card on review here should retail for around £139-149 ($229-249), though the Arctic Cooling cooler does add to some of the cost here.
Indeed, our industry sources suggest that ATI's price level won't be met, at least not initially, by other board makers either. We'll see how pricing pans out when ATI's favoured launch partners reveal their own pricing plans.
We didn't have a 7900 GS on hand to compare the X1950 Pro, but then we didn't expect ATI to line its new part up against Nvidia's product. The X1950 Pro doesn't compare too badly against the X1950 XTX considering that it's retailing for less than half the price.
Looking at the benchmark numbers this really is an outstanding card unless you're a performance junkie that needs every last FPS you can squeeze out of your games. Up to 1,280 x 1,024 you won't notice much difference between X1950 XTX and Pro, and even in higher resolutions, the X1950 Pro offers very good performance indeed. It can't match the XTX once you start turning on the eye candy and run at above 1,600 x 1,200, but this is unlikely to be a problem for most of the new card's potential buyers.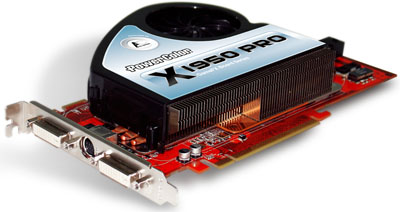 The numbers speaks for themselves, and there's no doubt that ATI will be shipping a lot of X1950 Pro graphics chips to its board partners at the price point we're looking at here. It's going to be a tough Christmas for Nvidia in the sub-£150 graphics card market, although the yet un-announced 'G80' DirectX 10 part is likely to draw the attention away from ATI at the very high-end.
Verdict
PowerColor's ATI X1950 Pro-based card is an excellent add-in all around, with plenty to offer considering its very competitive price point. PowerColor has made a good choice in fitting the Accelero X2 cooler on the card as it keeps the noise down to a minimum and makes for a better-value product. ®
PowerColor ATI Radeon X1950 Pro
An excellent graphics card at an unbeatable price...
Price:
£139-149/$229-249 RRP