Apple's Jobs not in a stew over Zune
Hi-Fi more important than Wi-Fi
Apple CEO Steve Jobs is - surprise, surprise - unfazed by Microsoft's would-be iPod killer Zune. Earphone sharing will prove a more potent force for social networking than the iPod rival's much-touted wireless song-sharing feature, he reckons.
In a short Q&A with Newsweek, Jobs professed to be unworried by Zune:
"I've seen the demonstrations on the internet about how you can find another person using a Zune and give them a song they can play three times. It takes forever," he claimed.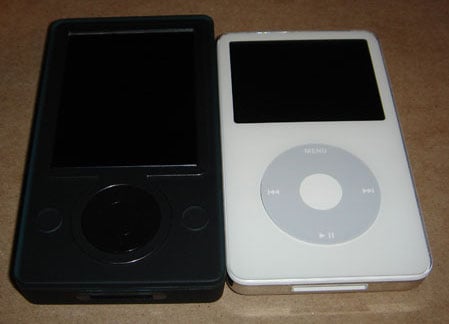 "By the time you've gone through all that, the girl's got up and left! You're much better off to take one of your earbuds out and put it in her ear. Then you're connected with about two feet of headphone cable."
Zune's key pitch as an alternative to the iPod is its wireless support. The 30GB Microsoft machine will be priced the same as Apple's 30GB iPod - $250, give or take. Zune has a bigger, 3in display, and comes in that notoriously consumer-friendly colour, brown.
Zune is due to ship in the US on 14 November. ®
Sponsored: Minds Mastering Machines - Call for papers now open