Netgear SPH101 Wi-Fi Skype phone
VoIP without a PC
The menu system is very easy to navigate and reminds me of the old Nokia menu system with the options laid out in a top-to-bottom style. The menu options are contacts, history, add contact, search, services and settings. Pretty basic compared to a mobile phone, but then again, the SPH101 is an easy-to-use device.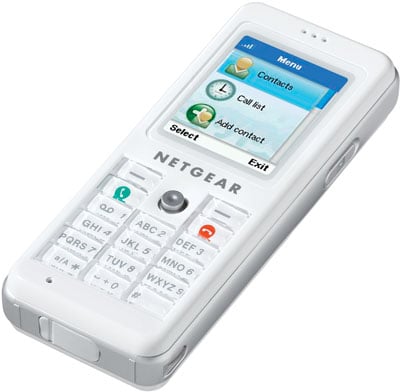 Once you power it on, the SPH101 will automatically look for wireless networks in range and try to connect. You can connect to WEP- and WPA-enabled Wi-Fi access points, although entering long awkward keys can be a pain on the numerical keypad. Once connected, the SPH101 downloads your contacts from Skype and you're set to go. One downside is that you can't use the handset with public networks that require you to log in via a website, as it doesn't have a built in web browser. At leats this is clearly stated on the box.
You can of course add new contacts from the handset itself and you can even search for people with Skype accounts. What you can't do is add SkypeOut credit or new features from the phone, which is a shame. This means that you would need access to a PC from time to time if you want to top up your credit for SkypeOut calls. A neat touch is the fact that the standby screen will show you any credit you have for Skype out calls, so you always know what your balance is.
What you can do is set up your voice mail message from the SPH101 as well as set up call forwarding as well as changing your Skype profile.
One disappointment is the limited choice of ringtones - these days even entry-level mobile phones sport a huge selection of annoying sounds. The SPH101 only has three and all of them sound pretty bad, even at the lowest volume setting. Pump up the volume and all three sound really distorted and are likely to annoy anyone that hears it ring. Luckily, the SPH101 also has a vibrating alert for those times when you don't want to be embarrassed by the silly ring tones.
The SPH101 will even automatically download new software updates as and when they become available, if you choose to enable this option.
Sponsored: Minds Mastering Machines - Call for papers now open