Audioengine A5 amplified iPod speakers
Too good for MP3?
Given the A5s are aimed at the digital music player owner, I tried them this way first. There's no doubt, these are serious, room-filling speakers. The sound's big and beefy without, and distortion free even when both the iPod and the A5s themselves - there's a volume control on the front of the left speaker - are turned up to max.
The A5s' strength is the bass which not only has all the thump you'd expect from a powerfully amplified set-up but also an isotropic quality so you feel they're pointed at you wherever you are in the room. There's also good detail there.
What the A5s lacked - at least at first - were the higher frequencies. Some recordings and music genres were worse than others, of course, but even so the sound lacks sparkle and clarity.
What we're seeing here is the limit of the medium, and the danger of stressing how handy your speaker products are for MP3 player usage. The A5s aren't deficient at the higher frequencies, as hooking them up to MacBook Pro and tweaking iTunes' EQ setting revealed. Playing CDs through the A5s showed just how clear they can be while still pumping out a solid, warm bass.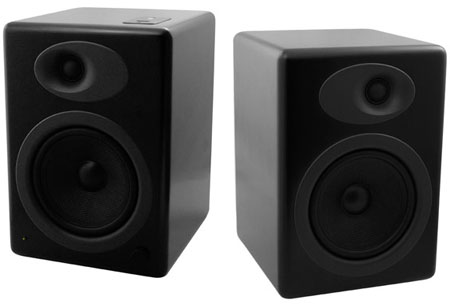 Listening environment and personal taste are important factors too, so it's a good that Audioengine offers new buyers a 30-day audition period. If you don't like the A5s, you can send them back for a refund - minus shipping costs, of course.
The price for this fine set of speakerage? Just $349 (£186/€275) a pair, so hardly a bank-breaking asking price, though overseas buyers may face significant delivery charges given the A5s' combined weight.
Verdict
Audioengine's A5 speakers look good and sound even better. Hook them up to a CD or DVD player and you're in for a real treat. The company's claim that MP3 and other lossy audio formats sound great too is entirely true, but only because of the volume. These technologies sell the A5s short - the speakers deserve much better sound sources. Frankly, they're too good for MP3s. ®
Sponsored: Minds Mastering Machines - Call for papers now open

Audioengine A5 amplified iPod speakers
Stunning speakers that'll lift your digital music and sound even better with lossless formats...