Audioengine A5 amplified iPod speakers
Too good for MP3?
I tried the A5s out first with a first-generation iPod Shuffle, and with player plugged into speaker, the choice of a top-mounded USB port seemed inspired. But then I tried the speaker set with a Nano, and it's less impressive. USB is non-partisan, but then it only delivers power, in this context at least. Even with a Shuffle, you still need to connect the player's earphone port to the 3.5mm input, and with a Nano, other iPod or another brand of digital music player entiurely, you not only do that but connect up a USB-to-dock cable too.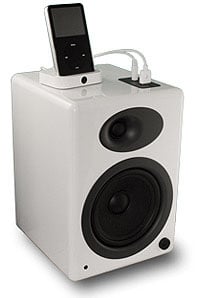 If you're going to have to wire up your player this way, it'll be tidier if the ports are all round the back of the speaker, leaving the top clear for a docking cradle or simply just clear of anything. Only by connecting your music player to the 3.5mm socket on the back of the A5s and connecting an AC adaptor into the auxilliary power port can you hope to keep the all the wires out of the way. These are nice-looking speakers - they don't deserve to be seen draped in cables.
Personally, I'd like the USB port at the back too, ready to plug in a remote-controllable dock on top of the speaker, with the two connected by a discreetly-placed couple of cables. An integrated iPod dock connector would have been even better, though less attractive to owners of SanDisk, Creative or iRiver players, for example.
Spaghetti aside, the A5s make for an attractive pair of speakers. The white styling won't match everyone's room decor, of course, and Audioengine also offers a version of the speaker set in black, though the company's fortunately resisted the temptation to colour the speaker cones. Even the white ones have a stylish, pro-audio look about them.
I didn't place my sample A5s thus, but Audioengine assures me they're magnetically shielded and so can safely be placed alongside monitors and TVs.
Sponsored: Minds Mastering Machines - Call for papers now open