Audioengine A5 amplified iPod speakers
Too good for MP3?
Review Loudspeakers designed for digital music players are ten a penny these days but their ambitions rarely extend to the audiophile. Most are intended to replace portable CD or tape units rather than living room systems, let alone pro-level kit. Apple's iPod Hi-Fi has helped show the player can drive room-filling kit, but US-based Audioengine reckons its Audioengine 5 (A5) set brings studio quality into the home...
The A5s are seriously hefty speakers - the left- and right-hand units weigh in at 6.4kg and 4kg, respectively. No great surprise this since they're an active - there's a built-in 45W RMS amplifier that's tuned, the company claims, to MP3, AAC and WMA compressed-audio sound. The perfect mix of audiophile quality and digital music simplicity?
Both units contain front-facing treble and mid-range cones both coloured black to contrast with the shiny white casing. Round the back, each has a rear-facing bass reflex port, so you're not going to want to put them too near a wall - at least 12cm from the surface, say. The cases have an 18 x 20cm footprint and are 25cm tall, so they're all set for mounting on good, solid shelves. They don't have feet, but Audioengine bundles a pair of foam pads on which to sit them.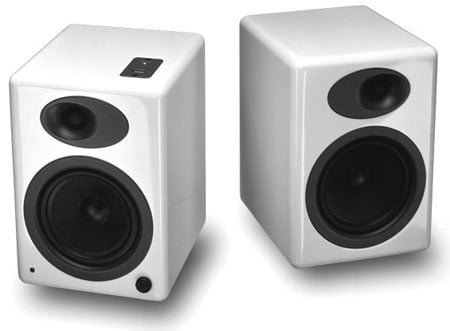 The amp is fitted into the left-hand speaker unit, which has a pair of spring-loaded clips in which to connect the cable out to the right-hand box. There's a voltage selector for non-US buyers with 230-240v mains supplies, and a power outlet to connect - Audioengine suggests you hook up Apple's AirPort Express box, to network the A5s.
On top of the left-hand speaker you'll find a standard USB port and a 3.5mm socket to connect the player's audio port to. Audioengine bundles short (20cm) and long (2m) 3.5mm-to-3.5mm cables - there's a second 3.5mm socket on the back of the speaker unit - along with a 3.5mm-to-RCA (female) adaptor cord, the 3.75m speaker-to-speaker lead (16 gauge) and a 1m USB extension cable.
COMMENTS
Places to buy Audioengine speakers in the UK
Other places to get hold of these audioengine speakers in the UK are Ecodigital (you can also save the planet while you buy!!) and Bluestream Audio Visual. ,)
*sigh*
These definitely do sound like a pair of excellent speakers and I would love to get my hand on some, especially at this price.
Oh, wait, at the _U.S._ price, that is. Now I dont know what the shipping costs are but apparently someone here in the UK gets them delivered by rocket, otherwise I cant explain why they are being sold at up to £375.00! Damn, I'll add another couple of !!! just because!
(Ok, I've seen them for £249.00 as well, but still...no way)
Hints to cheap resellers in the UK would be much appreciated...
FYI
I thought I'd mention that we're now shipping with these new features:
1. 5-way speaker binding posts (gold-plated screw-down type replaces the plastic spring clip speaker connectors found on earlier versions).
2. Direct subwoofer outputs. This is a full-range output to go directly into a sub input.
The white finish is high-gloss and the new black version is semi-matte black to hide fingerprints and scratches. Both white and black include the same new features, which is something people have been asking about for some reason.
As far as availability of the A5 in the UK, we are now listed on Amazon UK:
I'm surprised you didn't mention how great these speakers work with the Airport Express! This seems to be what a large majority of our customers do and we're working on a sub that also has an AC outlet on the back to allow for a "wireless-ready sub".
Also just FYI, the AC output jack for the UK market is an EU plug - I think I sent you a US version as the EU plugs weren't shipping yet.
Brady Bargenquast, co-founder, Audioengine USA