Ricoh Caplio R5 7.2Mp compact digital camera
7.1x optical zoom in a compact format
Image quality was very good in optical terms with good sharpness and only very minimal darkening at the corners. However, despite Ricoh's boasts about their new Smooth Image Engine II noise reduction system image noise levels were worse than many similarly priced cameras once you got above about ISO 200. Below ISO 200 noise was still evident but no more than you'd expect find in other small-sensor cameras. Chromatic aberrations were fairly well controlled for a lens with such a broad zoom range as was distortion and neither should be an issue for most users.
Exposure using the multi-point matrix metering was on the money most of the time but every now and again it seemed to serve up a completely rogue image which was usually over-exposed by some margin. It also tended to over-compensate for brightly backlit subjects leading to unpleasantly burnt out mages. Switching to centre-weighted or spot metering certainly helped though accurate spot metering involves some understanding of how cameras meter light and I'm not sure why it's so regularly offered up on point-and-shoot models.
Along with its good quality lens and flexible zoom the highlight of the R5 must be its macro capability. With the ability to focus down to 1cm you can capture some really stunning close-ups, though getting this close without the lens casting a shadow on your subject can be tricky. This is where a circular, lens-mounted ring light comes in handy but as the R5 has no filter thread on the lens it's not really an option. Flash is disabled in macro mode and this, combined with the R5's poor low-light focusing may mean you do most of your macro photography outdoors in daylight.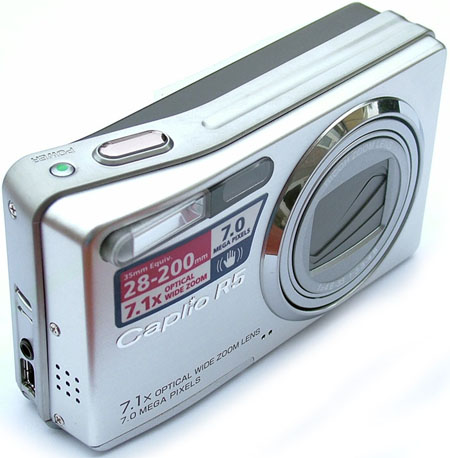 Verdict
The long zoom, 7.24 megapixel CCD, stunning macro, compact size and image stabilization all help the R5 to justify £250 asking price, but as a package there's just not enough it excels at to make it easy to recommend without reservations. Good but not great. ®
Sponsored: Minds Mastering Machines - Call for papers now open

Ricoh Caplio R5 7.2Mp compact digital camera
Poor handling lets down an otherwise good camera