Ricoh Caplio R5 7.2Mp compact digital camera
7.1x optical zoom in a compact format
The body feels solid in the hand thanks to its all-metal construction. Build quality looks to be very good with only the flimsy battery compartment door with its visible overspray and fragile feel diluting the impression. As well as playing host to the ample 1,150mAh battery, which it's claimed should have enough stamina for around 380 shots per charge, the battery compartment is also where you'll find the memory card slot, unpopulated in this case, but ready to accept cheap and easily sourced standard SD cards. With a full resolution, full quality image weighing in at around 2.5MB and just 26MB of in-camera memory available you'll likely be shopping for a memory card sooner than you might anticipate. The battery is charged out of the camera using the supplied charger.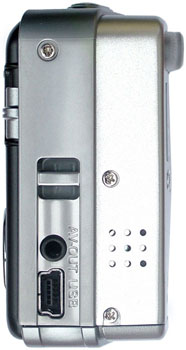 While we're lingering around the bottom of the camera let me just mention the tripod socket. Not only is it offset in relation to the lens' axis, which will upset those who like to create multi-shot panoramas, it's also made of plastic. I'm a bit old-fashioned when it comes to tripod sockets but I see no valid reason, financial or otherwise, for not using a steel one, even if the target user is unlikely to ever own a tripod let alone use one.
The front of the R5 is dominated by the lens which takes up almost 50 per cent of its width. A six-segment plastic shutter closes to protect the face of the lens when retracted and this opens as the three-section barrel extends for use. The lens isn't terribly bright, with a maximum aperture of f/3.3 to f/4.8 depending on the focal length but given the range of the zoom this is somewhat forgivable. The zoom mechanism itself is slightly clunky and rather noisy. This felt exaggerated during testing thanks to the unresponsive nature of the vertically orientated zoom rocker switch which sometimes worked and sometimes didn't. It certainly needed more pressure than I was comfortable with to get it to operate every time.

Also on the front is the tiny flash unit which is perfectly placed to be obstructed by a wayward finger. In its favour, its coverage was acceptable even at the widest lens setting which is no mean feat. The only other thing you'll find around the front of the R5, not counting the recessed autofocus sensors beside the flash, is the microphone which is located centrally near the bottom edge.
Sponsored: Minds Mastering Machines - Call for papers now open