Technicolour Colombian finch declared new species
Gorrión-montes de los Yariguíes, come on down
A technicolour finch discovered earlier this year in eastern Colombia has been declared a new species, Reuters reports.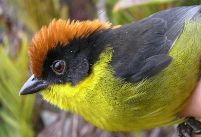 The Gorrión-montes de los Yariguíes (aka Yariguies Brush-Finch, aka Atlapetes latinuchus yariguierum) was recorded back in June by a team from the Anglo-Colombian Fundación ProAves (report in Spanish), in the Reinita Cielo Azul reserve in Colombia's eastern Andean range.
The Yariguies Brush-Finch gets its name from the mountain range's previous inhabitants - the Yariguíes tribe who legendarily committed mass suicide rather than bow to Spanish conquest. The team which tracked down the bird included Thomas Donegan of the Fundación ProAves and Blanca Huertas of the Natural History Museum.
Huertas said: "The description of a new bird is a rare event. However, this is just the first of several new species that we will be describing from the Yariguies mountains, including several new butterflies."
Any twitchers among you keen to get your binoculars over to Colombia for a shufti at the Yariguies Brush-Finch should note that the ProAves team's expedition was conducted partly by helicopter - the only way to get to remote parts of the Reinita Cielo Azul reserve lying at over 3,200 metres above sea level. ®
Sponsored: Minds Mastering Machines - Call for papers now open