Bloggers bamboozled by 'Sony Ericsson DVB-H phone'
The groovy gadget that wasn't
Sony Ericsson is preparing a handheld web-friendly tablet phone equipped with the ability to pick up DVB-H digital television broadcast if a heap of realistic-looking photos and concept paintings posted on the web. Or is it?
The snaps can be found at Spanish fansite Unofficial Club Sony Ericsson, but here's one to whet your appetite: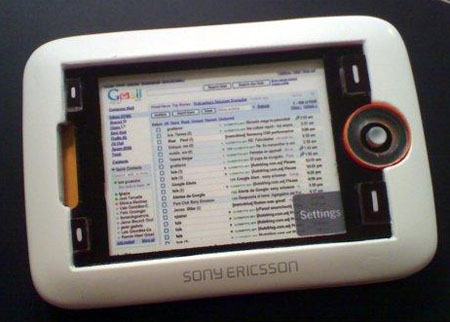 There are plenty more shots here.
Codenamed 'Adriana', the device is said to sport a 3.5in, 800 x 600 display. There's 10GB of memory on board - Flash, presumably - and more can be added with MemoryStick Micro cards, the site alleges.
It's also got a.... well, actually, it doesn't. Adriana is a gag. The concept model was designed by UCSE's owner and knocked up for a product design class. Unfortunately, too few bloggers bothered to trace the shots back from site to site to source and are busily writing it up as the real thing. ®
Related reviews
Sony Ericsson P990i smart phone
Sony Ericsson M600i smart phone
Sony Ericsson Cyber-shot K800i photo phone
Sponsored: RAID: End of an era?