Belkin tunes into Bluetooth for iPod song sender
TuneStage wireless stereo transmitter updated
Another day, another wireless Belkin iPod accessory. After the SportCommand wireless remote, here's the TuneStage II, a Bluetooth 2.0-connected combo for streaming music from the player to a hi-fi.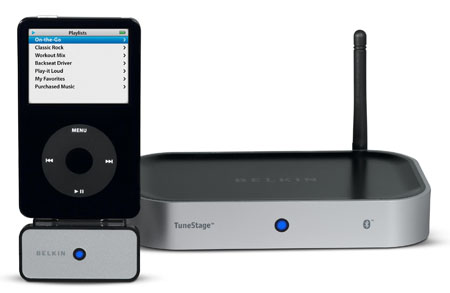 Unlike Logitech's similar wireless music system, TuneStage II captures sound signals send through the player's dock connector and beams it up to 10m. Belkin claimed it will do so for up to seven hours at a time - after that you'll need to recharge the iPod, which also powers the TuneStage II transmitter module. The unit has a USB port of its own allowing the iPod to be recharged in situ.
The TuneStage II is compatible with most modern dockable iPods, including both generations of Nano, the Mini, and the colour and video-enabled hard disk-equipped models. Belkin said the kit will ship in November for $150 (£81/€120). That's the US debut schedule - Belkin said the European roll-out would take place in due course. ®
Sponsored: Fast data protection ROI?