Vodafone Palm Treo 750v smart phone
The Windows Mobile Treo comes to the UK
The 750v provides Windows Mobile's own Outlook client for access to POP, IMAP and Microsoft Exchange Server, the latter with push email support. Vodafone's own push email service is delivered through a separate client app licensed from Visto. The Today screen's Email soft menu, incidentally, links through to Outlook rather than the Visto software, but it's clear the carrier wants you to use the latter: despite setting up my standard - and frequently used - POP and IMAP email accounts in Outlook, the 750v refused to connect to either, even with a 3G connection already established.
For all the WLAN-enabled handsets out there from HTC and its partners, from Nokia, from Sony Ericsson and from others, Wi-Fi still isn't part of the Treo specification. So there's no using your home or office hotspot to access the internet and email cheaply.
With its Windows Mobile foundation, the 750v should be a candidate for VoIP, over the 3G link since there's no Wi-Fi. Out of the box, the phone won't connect to Skype's website, which the phone reports has been restricted by the carrier. Vodafone, it seems, believes 750v buyers are, by default, under the age of 18 and therefore blocks access to www.skype.com. IE presents a link to turn off this restriction, but all I got was a web server error message when I tried it on the 750v.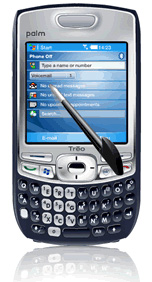 It gets worse. You're not even allowed to send pictures taken on the phone's camera by Bluetooth, only email or MMS - usage of which, unlike Bluetooth, renders gold unto Vodafone. You can't send files to the Treo by Bluetooth either. For the 750v, it seems Bluetooth exists only to connect the handset to wireless earpieces. Admittedly it's a while since I used one, but I don't recall the unlocked Treo 650 imposing these kinds of limitations.
None of this reflects well on Vodafone. Palm's own support site cast the handset maker in a better light - it appears non-Vodafone 750s will be allowed to do some if not all of this stuff. It's a shame because in all other respects the 750v is an excellent smart phone. Consequently, a device that might have scored 80 or 90 per cent rates much lower.
The 750v is at least a 3G device, and while there's no HSDPA high-speed download support, I got some good data transfer numbers from vanilla UMTS connections. A 23.1MB file downloaded from Microsoft's website took a little over six minutes to download - roughly 513Kbps.
Verdict
Palm's Treo 750v is an impressive addition to its smart-phone line-up. It's an eminently workable Windows Mobile device, and while I personally prefer the Palm OS, the Microsoft OS has evolved to become a worthy alternative. In some ways it's better, particularly given its push email support and Exchange Server compatibility. And Windows Mobile in no way hinders the classic Treo experience.
3G is clearly a boon too. It's pity there's no HSDPA support, but Vodafone's funny about giving smart-phone users access to it, in any case. In fact, if there's a flaw with the 750v it's the carrier. The restrictions placed on users go too far for me, genuinely preventing me from performing tasks on the 750v that I can easily do on other network-tied handsets. Unless you're wedded to Vodafone, I'd wait for until its exclusivity period ends and Palm releases an unlocked 750. ®
Sponsored: Minds Mastering Machines - Call for papers now open

Vodafone Palm Treo 750v smart phone
Decent hardware - shame about the restrictions Vodafone's imposed on its users...
Price:
Free to £250, depending on contract and airtime package RRP