Internally, the spec's little changed: a 300MHz Samsung CPU replaces the 650's 312MHz Intel XScale part, and the memory's now up to 128MB - all of it Flash, as before. Once apps have be run once, they start up again quickly. The 750v never felt sluggish.
The camera's now up to 1.3 megapixel, but the 2x zoom is unchanged. There's no front-mounted camera for video calls, which suggests Palm and Vodafone doesn't think Treo users want 3G for that sort of thing, so they probably won't be overly bothered by the below-par camera resolution.
There's no HSDPA here, but the 3G tri-band UMTS connectivity is backed by quad-band GSM/GPRS/EDGE support, making the 750v ideal for roaming. In the UK, call quality was fine. The call strength icon rarely dropped below two bars - much like the 650, despite the lack of antenna stub. The 650 also introduced Bluetooth to the Treo family, and while the 750v is still a Bluetooth 1.2 device, it now has A2DP stereo audio support.
Other tweaks include voice commands, voice recording and streaming media support, all three features inherited from Microsoft. All welcome, of course, but none I'd drop a 650 for. Which leaves, as I said, connectivity and the OS the key considerations here.
The 750v is a good Windows Mobile device. As I said, the screen looks good and provides ample space for information readouts provided you don't turn the on-screen keyboard or character-entry area on. And why would you? The 750v's keyboard is entirely fit for purpose, and with a clearly marked numeric pad, much better to use, I'd say, than any on-screen dial keys. With one hand or two, it's good to use. There is a phone dial pad, though, if you want one.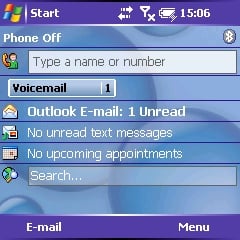 Yes, 240 pixels isn't as good as 320, but I found it less of an encumbrance than I'd expected it to. Even 240 x 320 displays are limited, particularly with apps like Internet Explorer, and the missing 80 pixels add up to surprisingly little extra screen space. Speaking of browsers, the 750v does indeed use IE rather than Palm's own browser, Web, which remains the better of the two at rendering for the small screen websites designed for large monitors.
That said, when I added more than two speed-dial numbers, the web search field was pushed off the Today screen, reachable only by adjusting the scroll bar. This could happen with a 240 x 320 display, of course, but it's a little less likely, and Palm missed a trick by implementing the speed dial listing as a pop-up menu which, oddly, the speed-dial entries actually look like. As it stands, the scroll bar severely weakens the Today screen's role as at-a-glance status display.
I'm pleased to say, though, that Palm's instant messaging metaphor for presenting text messages has been carried over from the 650. Palm has also improved the standard Today screen with its own layout, adding a space for contact look-up and phone number entry - so there's no Phone screen here - as well as a drop-down menu of speed-dial numbers and a web search entry field. And Palm appears to have done a better job than other Windows Mobile device makers of adapting the OS to stylus-free usage.
There is a stylus on board, just in case - a thin but full length job that's better, I'd say, than most and certainly an improvement on the telescopic stylii used by many other Windows Mobile handsets. You will need the stylus now and then, typically in apps where the focus is fixed on a text-entry field, but there's probably not much Palm - or HTC for that matter - can do about that until Microsoft writes Windows Mobile for single-handed, keyboard input first, stylus input second, and not the other way round.
Actually, a stylus does prove handy in one respect: for reseting the system. The 750v's reset button is hidden under the Micro SD card slot cover. I had need of it two or three times during the time I spent with the smart phone. I didn't have to do so with the 650, so I'd say it's a Windows Mobile issue rather than a Palm one.
COMMENTS
Re. Sending via bluetooth
I does indeed work. Again, the process isn't straightforward, and Mac OS X told me the device claimed it couldn't take the file, but over it went and I now have a handful of MP3s on the Treo to test the Bluetooth stereo support.
Thanks for the info, Mike.
RE: Re. Sending via bluetooth
Hi Tony,
Actually you can receive images etc. via bluetooth. There are two steps to being able to do this.
Step 1: Ensure that "Receive all incoming beams" is enabled in the Beam application that is located in Settings.
Step 2: Make the sure the device is discoverable in the bluetooth menu.
I admit that it isn't the easiest but once setup it DOES work.
Hope this helps.
Mike
Re. Sending via bluetooth
Thanks, Mike. This does work, but it's a tad obscure a process. How many users will figure this one out? Going to the Send... menu is surely where most folk will look, only to be presented with a list of email accounts. If you do select Beam File... the first thing you see is a reference to the infrared port - I suspect most 750v users will hit the OK button before the device search finds anything, as I did.
And you still can't send anything *to* the 750v...
Hearing very similar comments from a number of sources
I've talked to a number of people who have used this phone and the response seems to be the same - it's very very flakely plus it seems to struggle to get a 3g signal.
This review http://www.clieuk.co.uk/forum/showthread.php?t=8136
seems to match the experience of my contacts.
I'll give it a miss for the moment.
Sending via bluetooth
Regarding the comments on sending camera pictures via bluetooth, this is totally possible, you take the picture, then navigate to the picture through file explorer, tap and hold and beam the file, the phone will search for bluetooth devices and you can then send.