Vodafone UK takes a shine to RIM's Pearl
Carrier starts pre-order round
Vodafone has quietly begun offering Research in Motion's BlackBerry Pearl email phone to new customers. The carrier is currently taking pre-orders for the handset on its UK website.
Pearl is RIM's first device to offer media playback features and to focus more on consumers than executives. It's got a 1.3 megapixel camera, quad-band GSM/GPRS reception, Bluetooth and the company's push email offering. The QWERTY keyboard uses RIM's SureType prediction system, and there's a trackball control in place of the usual BlackBerry jogwheel.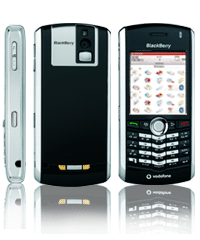 Vodafone's version of the BlackBerry 8100 - as Pearl is officially called - will cost anywhere from nothing at all to £250 inc. VAT, depending on which airtime package buyers choose and the length of their contract period. The carrier didn't say when it expects the Pearl to ship. ®
Related reviews
RIM Blackberry Pearl 8100
Vodafone HSDPA 3G broadband data card
Sponsored: RAID: End of an era?