Rockwell goes on the booze
Futurama robots run on beer. These robots make their own brew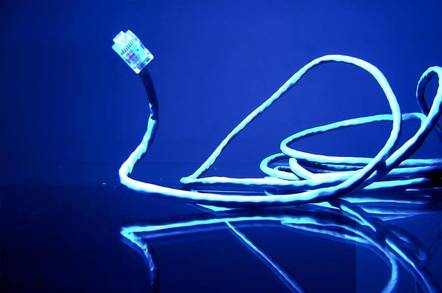 Bad brews and wasted beer could be a thing of the past, according to Rockwell Automation, which claims that its packaged Brewhouse Solution covers 80 per cent of a brewery's production management needs.
The Rockwell software talks to the brewery plant over Ethernet to track the beer production process in real-time, and connect that back to stock levels, recipes, order tracking, etc.
"Based on a virtual [virtu-ale?] brewery model, the Brewhouse Solution ensures that each step in the production process is executed and repeatable, leading to higher yield, consistent quality and greater production flexibility," the company said.
It also lets the brewery hop between beers faster - you simply tell the system what beer you're making today - and makes it easier to develop new recipes, said Charley Rastle, Rockwell's global beverage marketing leader.
"It's partly about consistency - people want things to taste the same," he said. "The other thing we're starting to see is the big brewers are adding more brands, so maybe it's 11 batches of light lager, and then the twelfth batch is something more interesting.
"All you need is for automation to gain you an extra batch a day, and it's like gaining an extra brewery."
There's other savings to be had as well. For example, Rockwell customer Harutsu Sake Brewing reckons automation has reduced its labour costs by 60 per cent.
It's not small beer though. Rastle said that this sort of complexity isn't practical until you're brewing 100,000 to 200,000 hectolitres (17.5 to 35 million UK pints) a year, but said there's hundreds of breweries of that size around the world.
Automating a brewery is hardly new - this writer recalls visiting Bass's Cape Hill brewery in Birmingham, 20-odd years ago, where everything was run by a couple of DEC VAXess - but Rockwell claims that a packaged solution will make it easier and cheaper to do, as well as tracking the process more closely.
"In the past, we supplied the automation hardware and software, and then our partners developed the automation, but always from scratch," said Rastle. "Now, only 20 per cent needs to be custom-configured for that specific facility - how many coppers it has and so on."
For anyone researching factory automation, this all provides an excellent excuse to visit the Brau Breviale beer trade show in Nuremberg next month, where Rockwell is launching the Brewhouse Solution. On the other hand, if you've ever wondered why all lagers taste the same, now you know...
Sponsored: Minds Mastering Machines - Call for papers now open