Oono MiniDAB pocket digital radio
The Archers in your pocket, in 1s and 0s
Review The MiniDAB is slighly smaller than early iPods, and while it's very much lighter than the Apple device - it feels like it's missing the battery, even though it isn't - it has none of the iPods looks. Apart from the iPod-like black and white colour schemes, the MiniDAB has a rather 1990s look about it: simplicity is out, complexity is in - presumably to imply a large feature set.
The display is a monochrome seven-line LCD. Above it sits the voice-recording mic; below it sit Mode, Timer and Rec buttons, and the MiniDAB's main control cluster. At the bottom is the unit's speaker grille. The control's a circular four-way job: push up or down to skip through recordings, and left or right for rewind fast-forward, and to call up the station list in DAB mode. At the centre is the play/stop button, and surround the navigator are four further keys: Menu, Delete/Back, Info and Repeat. Alas, these four don't extend a full quarter of the way round the wheel...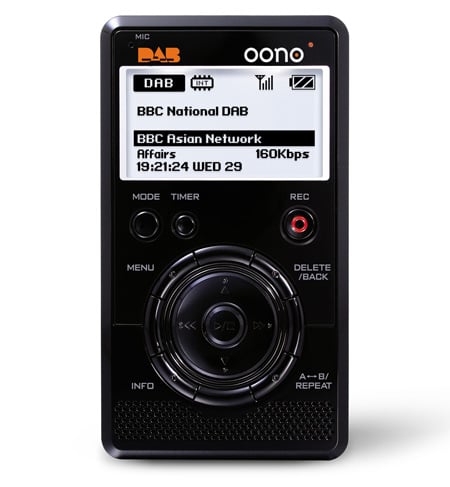 On the left-hand side of the device are the volume control, Hold switch and recessed reset button. Roung the other side, you'll find the line-in, 'phones and SD card connectors. There's a mini USB port on the bottom for charging and file transfer. The port has a cover, but it's not connected to the player so expect to lose this sooner or later.
The shiny black MiniDAB fits snuggly in your hand, but the all-plastic casing has a cheap feel that's exacerbated by the way the buttons rattle. It has the air of an early, no-name MP3 player, and the look of one too.
Powering the device up puts you into MP3 player mode. There's 128MB to 2GB of built-in memory, depending on which model you choose, and you can add up to 2GB more using the aforementioned SD card slot, which also has a cover, this time attached to the player. I was sent the 128MB unit - enough for two or three albums if they're short.
COMMENTS
LW
There should be no need for LW - test match special appears on FiveLiveSportsExtra
FM vs DAB vs MP3
I've noticed a couple of things in your review of the Oono DAB personal radio that I disagree with:
You said:
"Recordings are made in MP3 format, and the timer set-up screen lets you choose set bit-rates from 32-256Kbps. No so ad hoc recordings - they're all at an FM radio-like 64Kbps."
Firstly, to suggest that FM is similar in quality to 64 kbps MP3 is wildly underestimating how good FM quality can be. It might not sound very good on a personal radio, which is about the worst possible device for FM reception, but on anything with better reception, FM is far better than 64 kbps MP3. Try listening to Radio 3 on FM on your home stereo, and ask yourself if that sounds better of worse than a 64 kbps MP3 file.
Also, your comment seems to suggest that DAB sounds better than FM, when in fact FM sounds miles better than DAB. Again, compare DAB with FM on your home stereo if you don't believe me.
(BTW, it should be 64 kbps, with a small 'k', because it's 64,000 bits per second, not 64 x 1024 bps.)
BTW, if you think I'm some random crackpot (I run a website, so I know how many crackpots there are out there), I write a monthly column about digital radio and DAB/FM product reviews for the Hi-Fi World magazine. And in case you're wondering, I'm not an audiophile that hates all audio compression, nor am I someone that uses a massive aerial or an ultra-expensive hi-fi tuner.
And on the subject of 64 kbps, you might not be aware, but the new Virgin Mobile DAB-IP mobile TV service transmitting over the DAB network is only using 59 kbps per mobile TV channel. See:
http://www.wohnort.org/DAB/uknat.html#National
The channels are using 64 kbps, but taking the additional error correction into account, the actual combined video/audio bit rate is just 64 x 188/204 = 59 kbps. Niiiiice.
And on the subject of DAB reception you say that:
"the radio's reception is a little hit or miss. I experience distortion on some multiplexes - the bands multiple stations are transmitted upon - mono playback on others."
Poor DAB reception never changes the audio mode from stereo to mono on DAB. When you hear mono playback, that's because the radio station is transmitting in mono. There's a lot of music stations on DAB using mono these days. See:
http://www.wohnort.demon.co.uk/DAB/ukloc.html (any station using a bit rate less than 128 kbps is in mono)
I'm afraid the DAB system is simply massively out-of-date, because it uses the MP2 audio codec, which was designed in the mid-1980s. And the audio quality of the stereo stations is also dire, because 128 kbps MP2, which is what 98% of all stereo stations use on DAB in the UK, is equivalent to just 80 kbps MP3. See the figure on this page:
http://www.digitalradiotech.co.uk/bitrate_vs_quality.htm
The MP2 curve is labelled 'LII' (for MPEG Audio Layer II), and at 128 kbps it was classified as providing sound quality that was "Annoying".
And on the subject of the DAB system being out-of-date, DAB is about to be upgraded, and the rest of Europe (apart from the UK and Denmark) will adopt the new DAB system (dubbed 'DAB+' or 'DABv2'), which will use the AAC/AAC+ (AAC = LC-AAC, and AAC+ = HE-AAC) audio codec and stronger error correction (to provide far more robust reception quality - your hit and miss reception on that Oono would be fine with the upgraded DAB system).
And the UK will swithcover to the upgraded DAB system eventually, but we'll have to wait for about 5-7 years until the vast majority of all DAB receivers can decode AAC/AAC+ - such receivers will begin shipping next year. All existing DAB receivers will become obsolete once we switchover to using AAC/AAC+, so Ofcom has said we'll have to wait until the vast majority of DAB receivers can decode AAC+ before the UK can switchover, hence the 5-7 years estimate above.
Regards, Steve
Wot ! No MW and LW on Oono Mini DAB?
A whopping £180 and it won't even receive the MW and LW stations you'd get on a £4.99 trannie?
That's a fat lot of good for sports fans wanting Radio 4 LW and Talksport when they are not in a strong DAB area, or want the BBC World Service when in Europe...
At that price I'd want DRM thrown in as well.
So it's definitely OhNo to the Oono !