Been in a plane crash? The BBC can help
Top tips from Auntie
Those among you looking for some top tips on how to survive an air crash could do worse than consult the Beeb's handy guide.
It's all good, common-sense stuff: adopt the brace position; count the seat rows from your seating position to the exit; and make sure you know how to undo your seatbelt.
In the event that you don't walk away from the carnage, though, the BBC can also offer grieving relatives a few pointers: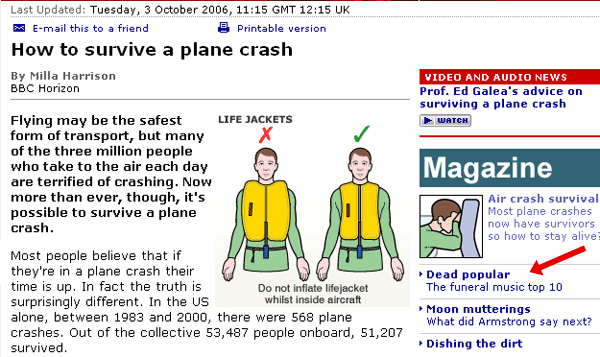 For the record, the song currently most likely to be coming out of the crematorium's speakers is James Blunt's Goodbye My Lover. As one wag comments on the BBC website: "The thought of James Blunt being played at my funeral has made me redouble my efforts to find the elixir of eternal life." ®
Bootnote
Ta very much to Andrew Williamson for the tip-off.
Sponsored: Minds Mastering Machines - Call for papers now open