Eye-Theatre video glasses for iPod
Goggle Earth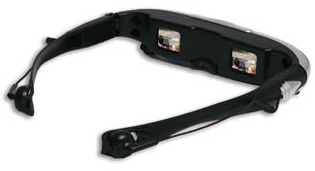 I also connected the Eye-Theatre up to both my DVD player and DVR and, again, it worked a treat. The picture's clear and crisp, and it's easy to sit back and watch. The EyeTheatre's perhaps a little too narrow for my taste, but some users will like being able to look above and below the video image to see what's happening in the real world. Others may find this distracting - it's really a matter of personal taste. Occasionally, I found my eyes registering the low horizontal line resolution, usually when I glanced away. It's a bit like sitting so close to a CRT TV you just start to pick out the pixels. But stick with the picture and it's reasonably smooth. The image is bright and crisp.
There's no way to adjust the relative positioning of the LCDs, which I could have done with. The right-eye display was just higher than the left one. Or maybe it's just my eyes - either way, each eyeball was at a different angle to its respective LCD, the upshot being that the right panel appeared slightly darker than the left. Tilting the Eye-Theatre solved the problem, but who wants to spend an hour or two holding down on the right-hand side of their goggles?
To fair, some adjustment is possible with the three rubber nose rests that come with the device. I wear glasses at some times, contact lenses at others, and the EyeTheatre is definitely more comfortable to wear without spectacles, even with the glasses-friendly nose-piece. However, you can wear it without each time having to find a spot at which your eyes can focus comfortably. If the Eye-Theatre slips down your nose a little, you can still see the picture as it should be seen.
If the picture isn't half bad, the sound's not so hot. I found it a little quiet, even at full volume. That's not so bad for pure speech, but if the musical soundtrack's blasting, it can be hard to catch the dialogue. The earphones offer only weak bass - they're no way comparable to the iPod's own earbuds.
The Eye-Theatre retails for £150 ($284), which is rather less than the $350 I've seen very similar units sold in the US for. I'd have expected to pay much more for the gadget, so despite its failings, it's not badly priced.
But you have to ask yourself how often you'd use it? On a plane flight, yes; on a train ride, possibly. For short hops on the underground/subway, you're probably going to stick with the iPod's own screen. I'm also concerned the EyeTheatre's arms aren't up to frequent opening and closing as the gadget's brought in and out of bags and pockets.
Verdict
The Eye-Theatre's a love-it or hate-it device. 5G iPod owners who watch videos on long flights will find it handy, and there's no doubt it has a certain cool quality - though it would have rather more if the design was a little less naff. It's a good device to have to hand when you want to watch one thing and the missus wants to watch another. ®
Sponsored: Flash storage buyer's guide

Eye-Theatre video glasses for iPod
Forget the naff Cyclops/Geordi LaForge looks aside, the EyeTheatre makes watching videos on your iPod much more comfortable...