Elgato EyeTV Hybrid USB TV tuner for Mac
All you need to make a Mac a media centre?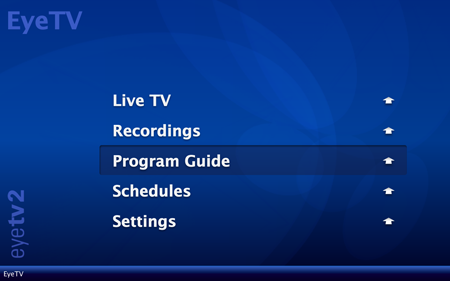 Speaking of Apple software, EyeTV now provides a full-screen UI that not only matches Mac OS X's Front Row but is likewise controlled using the Apple Remote Control. Elgato's provided almost all of the usual EyeTV functionality and it looks good. However, because it's not actually part of Front Row, you have to be run EyeTV first to make it work, though the full screen UI can be set as the app's default view.
I initially had problems running EyeTV in full-screen mode 1.83GHz dual-core MacBook Pro, with the program becoming unresponsive and, on a number of occasions locking up altogether. However, the recently released verison 2.3.1 seems to have fixed this. It now runs a treat.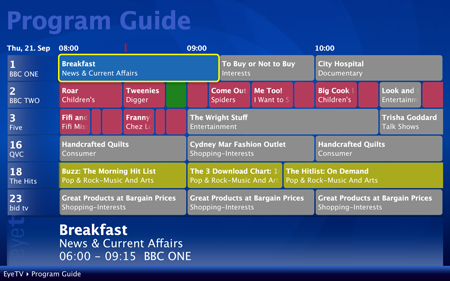 Another issue is how hot the EyeTV gets. Now, this is an issue with all USB 2.0 TV tuner dongles I've tried, and may well be within the gadget's operational parameters, but I'd want to make sure there's plenty of ventilation around and desktop machine it's connected to.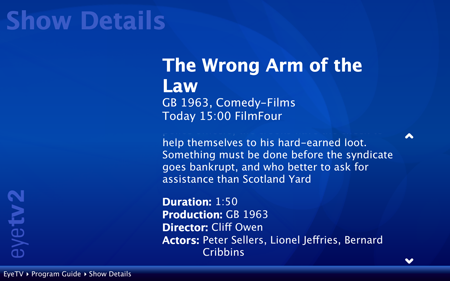 EyeTV Hybrid retails for around €150/$140 (£101). If you don't require analogue reception - which is handy if you're overseas or not in a UK digital TV area - Elgato's digital-only EyeTV DTT is just €100 ($127/£67) and provides all the EyeTV software features found in the pricier product. However, it also lacks the s-video and composite-video inputs. Encoding of analog material, ie. via the s-video or composite-video input - is handled in software, not hardware, so if you plan to do this, make sure your Mac's up to it.
Verdict
Elgato's EyeTV Hybrid is a very good hardware product backed by even better software. Let's be honest, the bundled antenna is pretty poor, but EyeTV flies with a decent aerial behind it. You get pretty much everything you'd want from a DVR and iPod support. The only downside I can see is having a single digital tuner, so you can only watch and record multiple shows if they're on the same digital frequency. Still, if I was setting up a Mac Mini as a media centre, this is the first product I'd stick in the back of it.

Elgato EyeTV Hybrid USB TV tuner for Mac
Price:
€149.95/$149.95 RRP