HP's Hurd vows to be held accountable for all that goes right
Remember the future
Don't cry for me Fiorina
HP veterans will remember some of Fiorina's darkest days during the company's acquisition of Compaq. Back then, reporters exposed a voicemail with Fiorina urging staff to do anything necessary to convince shareholders to approve the acquisition. Fiorina's tone seemed desperate - almost too desperate - and the leak of the voicemail embarrassed HP.
In retrospect, however, that leak doesn't look so bad. Fiorina was doing everything in her power to assure a desired end result for the business. It's a lot easier to be proud of a ruthless CEO trying to get her way than of a "new HP" that spies the semi-retired father of CNET reporter Stephen Shankland and even got a yearbook photo of his mother. [That's going to be a hell of a lawsuit - Ed] It would seem that Fiorina's HP was about business, while Hurd's HP centers on gossip and making things personal.
Fiorina too faced off against her critics in the most public of forums. In one of the most impressive performances your reporter has ever seen, Fiorina met with enraged shareholders and answered every one of their questions about the Compaq buy with style and grace.
Meanwhile, Hurd - weeks into this scandal - finally delivered a prepared statement at a press conference and then scampered back behind a black curtain, avoiding all queries from reporters.
Since when did turning your back count as accountability? Oh well, Fiorina does have the prettier face.
Over the next few months, more leaks will continue to make their way into the press. We're talking about serious gems such as e-mails from HP's then chief ethics officer Kevin Hunsaker writing "I shouldn't have asked" when told of the nature of HP's investigative tactics by a hired hand.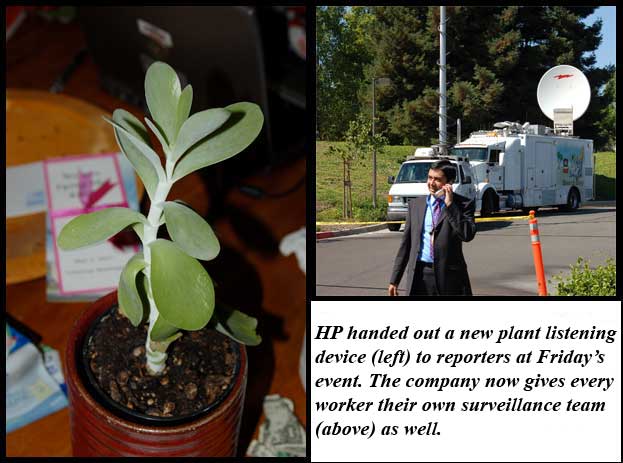 Compare such embarrassments to the leaks that got this affair started in the first place. HP boardroom members revealed that they had meetings in hotels and spas and also said they needed to sleep after long sessions. One BusinessWeek story even disclosed that a "light rain drizzled outside" of a Chicago Hyatt as HP's board met to fire Fiorina. The story went on with juicy tidbits about the board not being able to work constructively with Fiorina. You might think such leaks rather innocuous given that HP fired Fiorina in the most public of fashions. It doesn't take a reporter to tell you that there's usually a touch of discord surrounding such situations.
One shudders to think what actions HP's board would have approved if leaks appeared detailing what the executives ate for breakfast or the exact times of their bowel movements. Reading back through the "controversial" stories, you'll find leaked items more reminiscent of Robert Scoble's boring daily updates on feeding his cats rather than material revelations about HP's long-term strategy.
Hurd's tops because we can't do any better
Given the context, let's set the record straight about why Hurd is not only still here but also promoted.
One of Silicon Valley's elite summed up the situation nicely to us saying, "Picking a new CEO is the most dangerous thing a board will ever do."
After much searching, HP found Hurd, and this choice has paid off on Wall Street. HP's shares have doubled since Hurd took over, even though the giant is plodding along at close to 5 per cent growth.
The remaining board members - and what a cohesive group they must be - have clearly decided that HP cannot afford to pick another CEO in this environment. They've promoted Hurd to show confidence in the executive - confidence he has not earned.
Under any other circumstances, a CEO would not be able to survive such a scandal.
So, in essence, this spy probe has removed any type of "mandate" - to borrow from the political crowd more accustomed to such treachery - that Hurd once had. He's not leading HP through this mess because of his skill at handling such situations or because of his deft decision making. No, Hurd is nothing more than a figurehead for the moment, hoping that this mess will go away and let him get back to cost-cutting or whatever other short-term solutions to HP's problems he has in store.
HP could use a charismatic leader more than ever right now. Such a person might be able to get away with claiming accountability for all the things the company plans to get right, while deflecting accountability for all the things that have gone wrong.
Instead, HP has a nerdy type that forget to do his homework. He could have done it. He should have done it.
Damn, Fiorina really was easier to look at. ®
Sponsored: Minds Mastering Machines - Call for papers now open