Phone box attacks man with broken bottle
Telecoms terror, Manchester style
Updated Forget the threat to humanity posed by Spaniard-swallowing cyberkiosks: it's evident the Lizard Army has deployed a far more dangerous version of the murderous telecoms cubicle, viz: the bottle-wielding Mancunian attack phone box: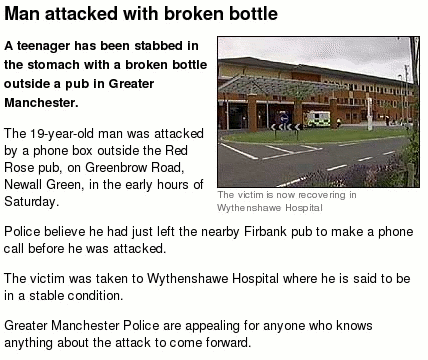 Chilling stuff indeed. Fellow neoLuddite Resistance Army members in Manchester are advised to take the usual precautions against homicidal phone box attack: laser pulse plasma rifle and kevlar vest. You have been warned. ®
Update
The Lizard Army's BBC operatives moved quickly to cover their tracks on this one: the story now reads "The 19-year-old man was attacked near a phone box..."
Bootnote
Thanks to NRA scout Adam Barraclough for the intelligence.
Sponsored: Minds Mastering Machines - Call for papers now open