In search of the Caspian Sea Monster
Strange sightings on Google Earth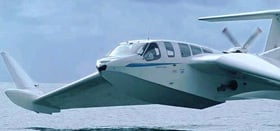 So, what of the future of the ekranoplan? In reality, the technical difficulties of developing a successful example often in the past outweighed the potential benefits of the technology.
There have been a few private outfits plugging away at their WIG aircraft, as evidenced by the Flightship FS-8 (seen here). It's another Lippisch-based design which - despite a lot of press back in 2000-2001 amid rumours that the company had sold seven examples to the Maldives - appears to have sunk without trace.
Enter stage right Boeing which, back in 2002, announced that it was developing the mother of all ekranoplans: the monstrous "Pelican" which would stretch "more than the length of a US football field and have a wingspan of 500 feet":

Designed primarily for "long-range, transoceanic transport", Boeing claimed the Pelican would be able to haul "1.5m pounds...10,000 nautical miles over water and 6,500 nautical miles over land".
Naturally, you're going to need a few wheels to hold up an oversized Pelican, and this particular bird - capable of lifting "17 M-1 main battle tanks on a single sortie" - would require no less than 76 tyres on 38 fuselage-mounted landing gears to support its weight.
Impressive specs to be sure, although whether we'll ever be able to do some Pelican-spotting on Google Earth remains to be seen. ®
Related links
Footage of the Caspian Sea Monster on YouTube. (Thanks to Andrew Hainault for the tip-off.)
Bootnote
There's an intersting theory knocking around that the only reason Howard Hughes' Spruce Goose ever got off the water was due to the ground effect, and that it could never have flown at altitude. It's an idea that has legs, as it were.
Sponsored: The Nuts and Bolts of Ransomware in 2016