Lord, won't you lease me a rotary phone?
My friends all use push-buttons - I must make amends
Letters More than a few people suspect that Mrs E Strogen, the lady who rented a rotary phone for 40 years racking up thousands of pound is a made up name.
"Was she married to Mr I.C Wiener?" asks Murad Talukdar
But Strogens are everywhere you look. The Associated Press isn't allowed to make up stories, and in any case we read it on the internet - so it must be true.
A few of you wondered if the practice continues here in the UK. Billing people for ancient phones, that is, not making stuff up:
I suspect BT make a fortune charging people this rental fee for handsets they probably threw away decades ago, and just haven't noticed the charge on their bill.

Adrian Barnett
Andrew Moore shares this story:
In a similar vein- when I moved into my current house five years ago I found I was being billed for a phone which I didn't have- I fitted a DECT phone when we moved in because there was no phone.

I rang the telco about this and asked them to stop billing us for a phone that we did not have.

Their answer was in order to stop billing us I would have to take the old phone down to the nearest telephone centre. I tried to explain again that I did not have the phone but there was no budging at their end. Obviously, the old phone was some form of priceless antique and they needed to have it back.

So I searched all over the house and found the phone in an old box in the attic. It was an old bakelite rotary phone with an giant phono plug on the end that wouldn't have even fitted into the current phone connection. So I took it down to the phone centre and they very reluctantly cancelled my monthly rental (no refunds).

As I got up the leave the girl shouted "excuse me sir- you left your phone behind"...

I still have that phone.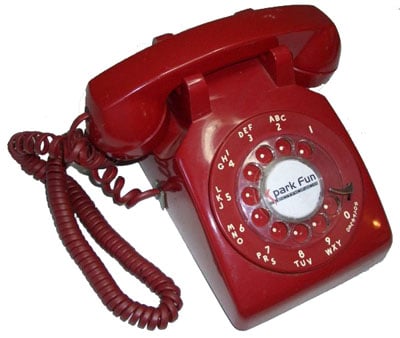 "Captain Cretin" says that back in the Spangles era, the practice was rife:
I can top that with two examples from Great Universal Stores.

1/ Uni-rent got really embarrassed about collecting the rental every week for many years (at least 10 years) on a single wooden plank used on a scaffold tower that they gave GUS the plank for free.

2/ While knocking down a wall in the basement of a GUS subsidiary in the early 1990's I found a room full of IBM typewriters circa 1970 that were all on rental.

I have no idea how much they were being charged per typewriter as the accounts department would not say; but multiply your $14k by about 75 typewriters and I would guess you would be close.

PS During the power cuts in the 70's GUS bought the maintenance staff torches so that they could find their way round in the dark; well at least until they found out how much the batteries were costing, then they took them all back and stuffed them into the same room they were hiding the typewriters in; they have this thing about not telling senior management about their cock-ups; even when it ends up costing millions.

CC
I played cricket against GUS once, Captain.
Back on-topic. The most significant aspect of the story, Tom Watson and others remind us, is that it was still working:
The story is nice, but consider this: The phone ALWAYS worked.

It wasn't one of those $10 (or less) throw-away's that we have now. The nice "500" sets (or "300" sets if you go back to the 50's) were BUILT TO LAST.

The phone company didn't want to service the items, and had high standards for quality and workmanship. You could probably do all the things described in another story about disk drives and the phone would come out smiling, still operational. This can't be said for the phones of today. Yes, they have more features (one button dialing, etc.) but they just don't last. I suspect that the grandma was quite correct in wanting her old phone back. How much would a quality phone that lasts 30+ years cost?

Maybe the rental wasn't so much of a rip-off!!

Tom
Quite right.
And our dodgy maths? We're working on it.
There's a nice page on old Bell rotaries, here, at David Massey's Bell System Memorial site. ®
Sponsored: Minds Mastering Machines - Call for papers now open