Yahoo! guest's Dell laptop goes up in smoke
Lenovo ThinkPad burns at Los Angeles airport, too
Days after a ThinkPad decided enough spreadsheets already and committed suicide in spectacular fashion at Los Angeles airport, yet another Dell notebook has joined the list of self-immolating laptops, this time at Yahoo!'s US headquarters.
The Dell machine, pictured below and taken by by Flikr user Stewart - there are many more to view at his website - appears to have been brought on campus by a visitor. A report on Engadget suggest Yahoo! has an HP- and Apple-only purchasing policy, though the company has not yet confirmed this.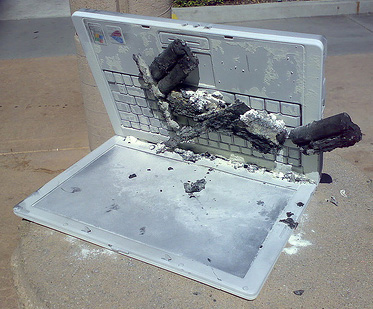 The battery burn-out at LAX - pictured here at website Something Awful - was a Lenovo-branded ThinkPad T43, the manufacturer has now confirmed, Cnet reports.
Lenovo's laptop ships with batteries made by Sony - the battery maker whose products were last month the subject of the recall of 5.9m power packs from Apple and Dell notebooks. However, Lenovo has not yet confirmed that a Sony battery was installed in the machine that caught fire at LAX. The incident took place this past weekend.
Lenovo has made it clear in the past many of its machines ship with Sony batteries, but unlike Dell and Apple has announced no product recall. A company spokesman told Cnet that Lenovo had "not seen an unusual number of incidents involving its notebooks and Sony's batteries".
Earlier this week Toshiba asked 340,000 customers to return their Sony-made laptop batteries, though it insisted this was in on way related to the Dell and Apple recalls.
Meanwhile, Virgin has become the latest airline to ban the use of Dell and Apple batteries during flights. Will, we wonder, the Los Angeles airport fire herald tougher restrictions before and during other carriers' flights? ®
Sponsored: Minds Mastering Machines - Call for papers now open