MSI P965 Neo-F Core 2 Duo mobo
Budget board
Both the North Bridge and the ICH8 are passively cooled, the former with a fairly substantial heatsink. A header is supplied should you want to implement a fan on the North Bridge, but you'll need to use the conveniently nearby system fan header if you want to do the same with the South Bridge, though I should mention that adding a fan here will block at least one of the three legacy PCI slots. These and the CPU fan header are the only three fan headers you'll find on the board. Staying with the slots you also get a pair of PCI Express x1 slots and a single x16 slot for your graphics card.
Moving to the backplane we find an interesting situation. While most manufacturers seem to be scrambling for unique and inventive ways to cram in all the extra hardwired connectors they want to make available, MSI has not only managed to include an antiquated parallel port, it's still found enough room to leave a gaping hole beneath it. In fact all you get for your money here are a quartet of USB 2.0 ports; the aforementioned parallel port; a serial port; PS/2 keyboard and mouse connectors; six 3.5mm audio jacks; and an RJ-45 Ethernet connector, which is powered off Realtek's RTL8110SC Gigabit Ethernet controller.
Motherboard headers provide support for a further six USB 2.0 ports but you'll need to implement these through the connectors in your case or by purchasing additional brackets. There's no Firewire functionality proffered by the Neo, so if this is important you'll have to add it by means of an expansion card or shop for a different motherboard. To save you looking, I can tell you that the Platinum version does incorporate Firewire as standard through a single hardwired connector and comes with motherboard support for one more using a supplied bracket.
Realtek is also entrusted with the Neo's audio, which is capably handled by the 7.1+2 channel ALC883 codec chip. The "+2" is because the ALC883 actually supports ten DAC channels thus multiple streaming of two-channel stereo sound is possible through your front panel audio connectors while 7.1 channel audio is piped as normal to the backplane jacks.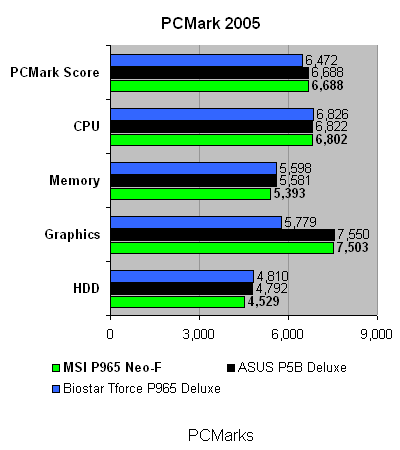 A stroll around the familiar blue pages of the Award BIOS will quickly highlight its lack of advanced tuning options, which will either be a refreshing change or a worrying limitation depending on your viewpoint. There's a selection of military themed dynamic overclocking settings starting at Private then ranging through Sergeant to Captain, Colonel and then General. The four primary memory parameters can all be set manually, as can memory voltage to a worthwhile upper limit of 2.4V but beyond this you're scuppered. You can manually set the memory frequency but only to one of the three default presets of 533MHz, 667MHz or 800MHz. No 1066MHz option if offered. PCI-E voltage can also be tweaked to a maximum 2.2V, and CPU multiplier setting is possible with unlocked CPUs, though raising the voltage isn't.