MSI P965 Neo-F Core 2 Duo mobo
Budget board
Having said all that, although we're not looking specifically at overclocking any of our test boards, a quick play did suggest that, like most of the P965-based motherboards, high FSB settings are quite easy to achieve and it didn't take a lot of effort to max out the Neo's available 333MHz FSB clock.

Testing was performed using an Intel Core 2 Duo E6700, 1GB of Kingston DDR2-8500 memory, an ATI Radeon X1900 XTX, a Seagate Barracuda 7200.7 hard drive and a 420W Tagan PSU.
Stability was impeccable during testing, in fact the only issue we ran into was a mechanical one as the IDE connector, which was being used to power our DVD-ROM drive, stopped our admittedly rather long X1900XTX from seating properly, at least not without a little gentle coaxing. This could prove even more of a problem if your graphics card is equipped with an oversized cooler that fits the full length of the card, such as the one on Nvidia'a GeForce 7900 GTX, for example.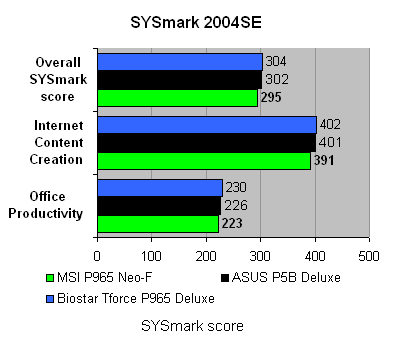 The benchmark numbers aren't as impressive as the previous two boards we've tested, but this might be resolved by a BIOS upgrade, and the P965 Neo isn't targeting the performance market specifically, as this is the job of the Platinum edition. Still, it's disappointing that MSI hasn't tweaked its boards better, as you wouldn't expect a well-known manufacturer like MSI to be beaten by Biostar, even though the P965 Neo is a few quid cheaper than the Biostar TForce P965 Deluxe.
Verdict
The P965 Neo is a simple, no fuss but no frills motherboard with a decent layout - except for the IDE connector - and at around £71 in the wild, it's one of the cheapest entries to the world of Core 2 Duo computing. Performance out of the box is a little on the weak side, with memory performance in particular trailing the pack. It isn't unusual to see some manufacturers exploiting the benefits of a new chipset much more quickly than others and I'd imagine that a little time and a few BIOS updates will bring MSI's P965 boards up to speed in this department. ®
Sponsored: Minds Mastering Machines - Call for papers now open

MSI P965 Neo-F Core 2 Duo mobo
A Core 2 Duo board without the bells and whistles but at a bargain price...