Gefen 4x4 HDMI Matrix audio-visual interconnect
Multiple input, multiple output
The box is made of metal so there's good RF shielding which limits interference.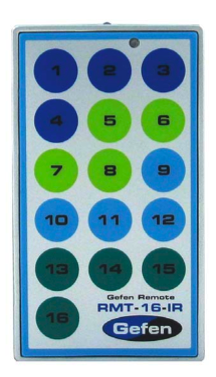 The remote can work on any of four infrared channels. If there's conflict with other IR devices, you can change the channel using two sets of DIP microswitches, one set in the remote, the other in the 4x4 HDMI Matrix itself. The DIP main box's switches also control the delay between switching (none or three seconds) and to feed a generic Extended Display Identification Data (EDID) signal to all four input ports. The DIP switches and also be used to enable +edge pixels.
There can be some flickering when switching as a display re-trains to the input source. And it may be worth setting the system to generate the internal generic HDMI EDID signal if you plan to connect a computer to the Matrix. Otherwise, the computer can assume there's no monitor attached. The EDID signal will all least tell it there's something there, presenting the box to the video card as a generic 720p/1080i device.
Most home users with a single HD display can probably make do with a basic HDMI switch unit, but if you have a more complicated, multi-screen set-up then the Matrix might be just the thing to ensure all your video sources can be made available to all your displays and swapped between the screens at will. The RS-232 interface can help here as it can be linked into a home automation unit such as an X-10 system.
Verdict
The Gefen 4x4 HDMI Matrix isn't going to suit everyone. It's a high-end piece of kit that is suited to a video studio, or to a sophisticated home user who has lots of video sources and displays. A Video DJ would find it invaluable. If you've got some kind of home-automation system it would also fit in well. But however useful you find the device, the asking price is very high. And for a dollar short of $2,000, a decent remote control isn't too much to ask. ®
Sponsored: Minds Mastering Machines - Call for papers now open

Gefen 4x4 HDMI Matrix audio-visual interconnect
Very expensive, but very handy for the AV enthusiast who has everything...