UK firm readies iPod-oriented video spectacles
As predicted by Blake's 7...
Some UK-based portable media player owners will next month be able to watch videos without the need to squint at a small screen, if PDT's Eye-Theatre video spectacles ship as planned. The 'video glasses' mount a pair of tiny LCDs in front of your eyes and incorporate stereo earphones into the ear-rests.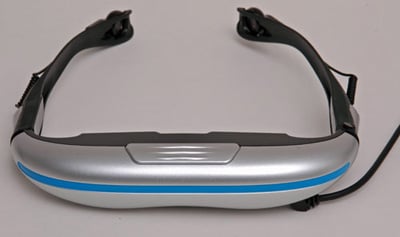 We've seen this kind of thing before - it's the kind of gadget Orange France was touting in December 2005. With the LCDs mounted so close to your eyes, you can watch videos with a much larger apparent size than they appear on a PMP's own display.
The Eye-Theatre is compatible with an device that has a video-out port - presumably a composite-video RCA port, though PDT and exclusive online supplier VoIPVoice didn't specify what kind of connector is used.
Viewers of the BBC space opera Blake's 7 will be familiar with the idea too: not only our heroes but assorted civil servants but arch-baddy Servalan herself was seen sporting just such a gizmo during the series' first season, broadcast in 1978.
VoIPVoice did say the device will ship in October in "limited quantities". It's asking £150 a pair, and is taking pre-orders now. ®
Sponsored: Application managers: What's keeping you up at night?