eBayer lays claim to net's dullest video
For sale: one washing machine, working...
Forget YouTube: eBay is the hip place to be if you want no-holds-barred video entertainment, as the vendor of this NEFF Washing Machine can prove: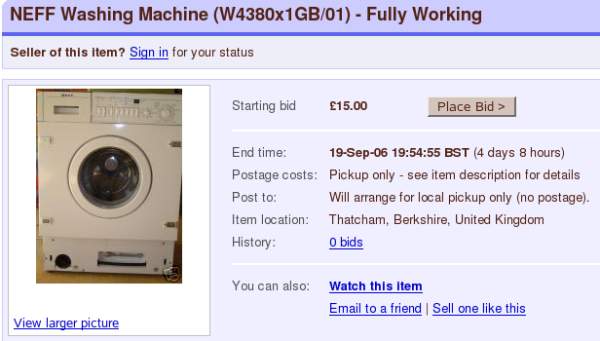 WTF, we hear you cry? An eBay washing machine auction challenging the mighty home of all that is great and good in homegrown visual entertainment? Have you gone mad?
Well, try this: "The machine works fine (Fills/Empties and Spins). Previously listed as not working but I have replaced the Carbon Bushes with brand new ones and the machine is 100% working (have video footage if required)."
Terrific. If the seller were Damian Hurst, then Charles Saatchi would right now be deploying his special chequebook with the extra-long cash amount field reserved for buying the Britart luminary's more challenging works. Suggestion for the NEFF vendor: stick a label on your VHS tape calling it "The Unbearable Lightness of Persil" and get yourself straight down to the ICA. ®
Bootnote
Thanks to Colin Deady for the whiter-than-white tip-off.
Sponsored: Minds Mastering Machines - Call for papers now open