Asus P5B Deluxe Wi-Fi AP motherboard
Core 2 Duo ready
ASUS have opted to use AMI rather than the ubiquitous AWARD variety for the P5B's BIOS. All the important options are there including an ocean of tweaking, tuning and overclocking options. CPU VCore can be set at any value between 1.20 and 1.70V in 0.0125V increments while memory voltages stretch up to a healthy 2.45V. Chipset and FSB termination voltage can also be tuned to your requirements.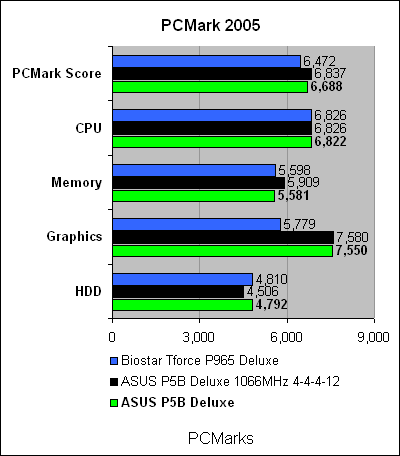 Other useful BIOS features include EZ Flash which lets you flash the BIOS from the POST process using an Alt/F2 key press. This opens the EZ Flash utility screen from where you point the system towards the new BIOS file which can be on a floppy disk or a USB flash drive. CrashFree BIOS is a tool designed to restore your BIOS settings after a failed or corrupt boot, usually as a result of a failed tweak or overclock attempt.
On the subject of overclocking, O.C.Profile lets you save your BIOS settings to one of two available locations. These profiles can't be named to remind you what they are but they can be copied to a floppy or flash drive to allow you to share it.
The P5B performed impeccably during testing and all signs are that this should be another winner for ASUS. There's nothing new or exciting here, but that's because we've seen it all before from ASUS. If it were most other vendors I'm sure I'd be raving about it. The latest BIOS revisions from 0505 onwards transform this board into an overclocking behemoth with reports of 550MHz FSB achieved. For those of you with less extreme needs you'll find that performance out of the box or when tweaked using the automated settings from supplied apps is solid enough to please.
Verdict
From the impressive audio to the slick memory handling I've yet to run into a flaw on this board. It didn't skip a beat no matter what was thrown at it and, for me at least, has earmarked itself as the Core 2 Duo board to own. ®
Sponsored: Minds Mastering Machines - Call for papers now open

Asus P5B Deluxe Wi-Fi AP motherboard
A great all-rounder for the enthusiast and the casual user, and with plenty of features to boot...