Asus P5B Deluxe Wi-Fi AP motherboard
Core 2 Duo ready
A pair of Marvell driven RJ-45 Gigabit Ethernet ports take ample care of your network needs, while audio is piped in and out via six 3.5mm jacks giving full support for up to eight channels, plus line in and microphone input. All this is handled by an Analog Devices SoundMAX AD1988B HD CODEC. A supplied SoundMAX branded Superbeam array microphone rounds off an impressive audio package, by using advanced techniques to filter out unwanted background noise and echo as well as it isolates vocal inputs, thus giving a supposed near headset-like performance.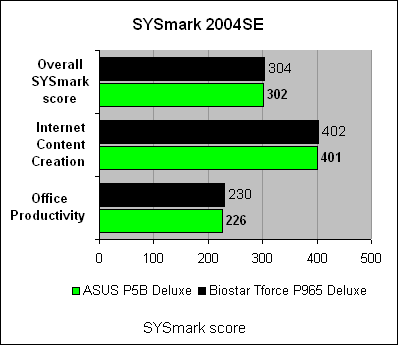 The final connector on the rear panel is for the bundled omni-directional wireless antenna. Wireless is implemented on the P5B by means of a daughter riser card running directly off one of the board's USB headers placed alongside the rear connectors. At its heart is the Realtek RTL8187L USB 2.0 controller serving up 802.11a/b/g modes along with 64 station software access point functionality. It's interesting that ASUS refer to the wireless support as embedded rather than integrated by virtue of the fact that it plugs in rather than being soldered onto the board.
The antenna is nicely styled but not terribly sensitive so you may want something a little more effective for marginal reception areas.
Memory support is excellent with up to 8GB of dual channel DDR2 supported across four memory slots. Chipset support stops at 800MHz, but ASUS offer an 889MHz and a 1066MHz (1:1) option when running at 1066MHz FSB. We were able to run our pair of 512MB Kingston PC2-8500 modules at 1066MHz 5-5-5-15 at 2.2V or at 800MHz 4-4-4-12 at 1.8Vwith absolutely no bother at all.
We then tried running the memory at 1066MHz at 4-4-4-12, more from curiosity than expectation, I was fairly surprised to see it not only boot up but then proceed to run in a stable manner. We've also included the PCMark results for this setting, though the overall score took a dip thanks to primarily reduced HDD performance.
Testing was performed using an Intel Core 2 Duo E6700 processor, 1GB of Kingston DDR2-8500 memory, an ATi Radeon X1900XTX, a Seagate Barracuda 7200.7 hard drive and a 420 watt Tagan PSU.
Sponsored: Minds Mastering Machines - Call for papers now open