Police cuff two in hoodie website probe
Suffolk's 'Chantry Boys' brought to book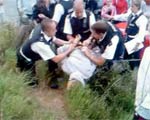 Police have arrested two men as part of an investigation into a "hoodie" website on which Ipswich's "Chantry Boys" posted videos of themselves terrorising their home patch, Suffolk's Evening Star reports.
According to the paper, "a 19-year-old man has been arrested on suspicion of theft and a 20-year-old man has been arrested on suspicion of handling stolen goods and criminal damage". The swoop follows examination of material including one Chantry Boy "held by five police officers as other yobs scream abuse at colleagues", as UK tabloid The Sun describes it (see pic), and a clip showing ne'er-do-wells "standing on the roof of a police car".
Residents on the Chantry estate told The Sun they are "too frightened to leave their houses at night". One, described as "too scared to be named", explained: "They put bricks through people's windows, spray graffiti and make people's lives a misery." ®
Sponsored: RAID: End of an era?