HTC's much-awaited handsets unveiled
Four new models get the green light
Four HTC Windows Mobile 5.0 handsets were unveiled today, following months of speculation and various leaks.
First up is the P3300, HTC's first dedicated navigation PDA. The handset comes with in-built GPS and TomTom NAVIGATOR 6. You browse the 2D and 3D maps using HTC's RollR (Trackball and Track Wheel) and can expect to either get a "taster pack" with a free download of a city map, or a full "premium pack" version pre-loaded with a complete set of maps for Western Europe.
The P3300's screen measures 2.8in and has a resolution of 240 x 320. The handset itself measures 108 x 58 x 17mm (HxWxD), but no weight was announced. It's a Quad-band model with GPRS/EDGE, WiFi, Bluetooth, 128MB ROM, 64MB RAM, a MicroSD slot and a 2.0 Megapixel camera.
It should hit the stores from October.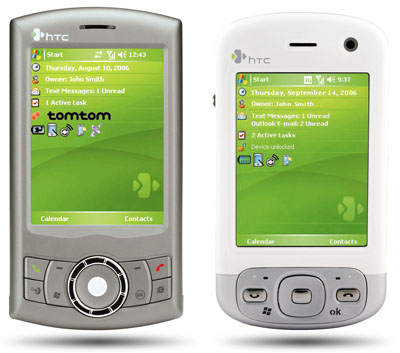 HTC 3300 and 3600
The P3600 is a PDA 3G Smartphone that is Tri-band UMTS/HSDPA and Quad-band EDGE/GPRS. It's got a 2.8in touch screen with 240 x 320 resolution and measures 108 x 58 x 18.5mm (HxWxD). Features include Wi-Fi, Bluetooth, 128MB ROM, 64MB RAM, a MiniSD slot, 2.0 Megapixel camera, and a forward facing VGA camera for video calls.
Available in black or white glossy finish, the P3600 will be available across Europe this month.
The S620 is a Quad-band model with full QWERTY keypad that measures 111.5 x 62.5 x 13mm (HxWxD), a very slim smartphone indeed. The weight, including battery, is 130g.
This HTC offering is the first device to feature the company's JOGGR touch sensitive navigation bar to ease access to your applications. The screen measures 2.4in on the diagonal with 240 x 320 resolution. It has a 1.3 Megapixel camera, GPRS/EDGE, Wi-Fi, Bluetooth, 128MB ROM, and 64MB RAM. The S620 is scheduled to hit the shelves in October.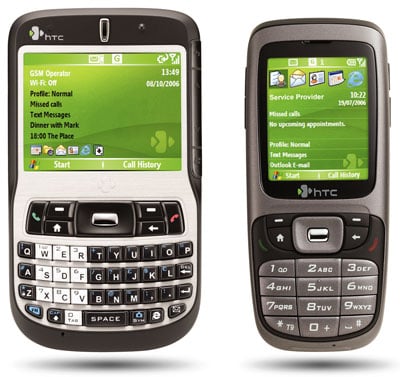 HTC S620 and S310
The fourth model is a small candy bar smartphone, namely the S310, which is a Quad-band EDGE/GPRS device. It measures 108 x 47 x 18.5mm (HxWxD and bears a striking resemblance to the Orange SPV C600 except that the 2in screen is smaller.
The S310 has 64MB of ROM and 64MB of RAM, but doesn't have any memory expansion slots. However, it will take advantage of a new type of SIM card which contains more memory than the current type. On top of this, the S310 also has a 1.3 Megapixel camera and support for Bluetooth 2.0 with stereo sound.
It should be in store this month in a choice of black, white, or grey. ®
Sponsored: RAID: End of an era?