Golden Palace Casino eats Britney sarnie
God preserve us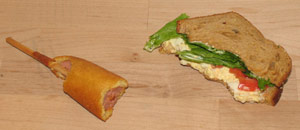 Online gambling outfit Golden Palace Casino has confirmed its status as the world's leading consumer of eBay tat by securing the half-eaten Britney Spears egg salad sandwich for a modest $520.
The partially-consumed nosh was offered, along with a rare Kevin Federline corn dog collectible, by a waiter who'd been working the tables at a "private music industry event".
A Golden Palace press release mentioned the possibility of cloning Britney - something we at Vulture Central had already explored.
Accordingly, the invoice is in the post and if Golden Palace pays up within 30 days we'll throw in a melted lard simulacrum which bears an uncanny resemblance to a nude Halle Berry mud wrestling with Janet Jackson. ®
Sponsored: Are DLP and DTP still an issue?