Nokia puts more love in L'Amour collection
The Finnish of love, or what a lovely Finnish
Nokia has launched three new mobile phones as an update to its L'Amour collection, the Nokia 7390 WCDMA (3G), Nokia 7373 and Nokia 7360.
The 7390 offers high speed streaming and video calling, a three megapixel camera with autofocus and integrated flash, and music player with one-button access. The Nokia 7373 has a 2 Megapixel camera, music and video player, twin stereo speakers, complementary fashion headset, pouch and phone jewellery. Finally, there's the Nokia 7360, complete with Stereo FM radio, integrated camera, MMS, MP3 ring tones, and Nokia Xpress Audio Messaging.
That's the technical guts but, naturally, there's a load of marketing puff too: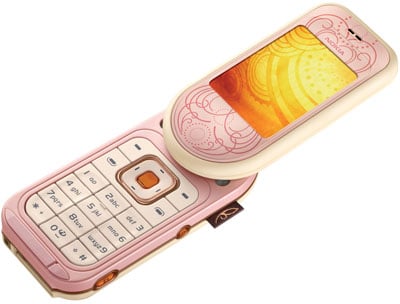 Nokia 7373
Nokia said: "Each model from the latest L'Amour Collection draws its design inspiration from tribal art and ethnic decoration.
"The result - a beautifully designed, intelligently considered and exceptionally crafted range of mobile phones, in a palate of colours and textures to meet every desire. Finding inspiration in the faded luxury of grand architecture...aspects of embroidery, 3D appliquee, ceramic tiling and other traditional decoration are refined and modernised through a new craftsmanship - resulting in beautifully embossed leather finishes and graphics which are sublime yet eclectic.
"The collection espouses a 'nouveau-ethnic' feel - the muted tonality and bleached colour reflecting fashion's new and sophisticated way of incorporating decoration."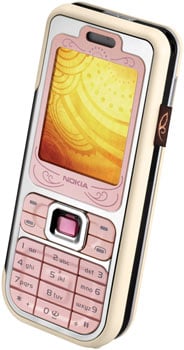 Nokia 7360
The 7390 is the professional model and combines 3G with a flip design with a bronze black finish for the suits and Powder Pink for the skirts. The estimated retail price of the Nokia 7390 is expected to be about €450, excluding taxes and subsidies, so when it comes to the UK it'll be expensive.
The 7373 model is a swivel design that is available in bronze black, powder pink and black chrome, with a wide array of complementary graphical themes and will be fairly pricy with an estimated retail price of €350 (plus tax).
Finally, we have the relatively cheap 7360 (€200), which is a candy bar in either black and chrome or powder pink. ®


Nokia 7390
Sponsored: Minds Mastering Machines - Call for papers now open