Sony Ericsson P990i smart phone
How the mighty has fallen...
Performance and reliability
Early adopters have already discovered a very telling feature (or bug) with the P990i. If you play the demo video and then pause it, this disables the UIQ transitions. The result is a fast and responsive phone. It makes the UIQ woes all the more apparent, for the underlying system seems well up to the tasks it's asked to handle, such as contacts look-ups, and fetching and rendering web pages. The 208MHz ARM processor processor running Symbian OS 9.1 was much more responsive than devices equipped with a 400MHz Xscale processor, lumbering under the burden of Windows Mobile.
But more immediately troubling is that even after all the delays, and using firmware refreshed only a week ago, the production model was incapable of being relied upon to complete the most basic tasks.
This is the buggiest production device your reviewer has ever encountered. The only similar experience was with the Nokia 7710, where the problem was performance: it took a lot of tuning and two major firmware updates to bring it up to an acceptable level.
In its current state, the P990i hangs when, in flip-closed mode, you choose to add a new contact, task or appointment, then open the flip - which you might want to do to create it with pen input or the keyboard. The phone remains in this state for several minutes, which may as well be considered a system crash. A reboot requires the battery to be removed, as the white screen doesn't allow a graceful shutdown.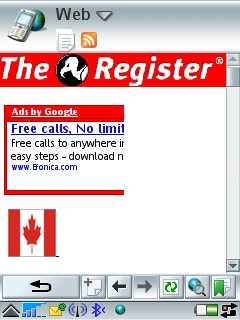 Opera on UIQ 3 doesn't show much text...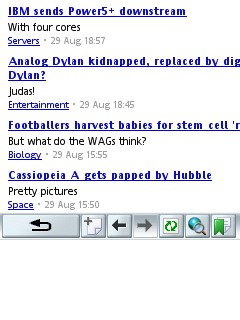 ... while full-screen mode isn't much better
The phone regularly hung when retrieving email, when surfing, or when fetching RSS feeds. WLAN configuration was mercifully simple compared to Nokia recent implementations - but the phone often failed to retain the settings for our closed network between reboots.
Sponsored: Minds Mastering Machines - Call for papers now open