Sony Ericsson P990i smart phone
How the mighty has fallen...
Another incomprehensible decision: with previous models, if you were in mid-call, opening the flip would activate the speakerphone. Now you need to activate the speakerphone from a menu - it's one of eleven options - and, remember, there's no menu key. You can imagine how many road accidents this will cause.
Four thumbs good - two thumbs bad
With a crippled jog-dial, there's an over-reliance on the back key - something we also found to be a retrograde step with the M600i. For some reason, this second Back key is placed right below the jog dial on the side of the phone, necessitated tipping the device forward. This felt unnatural, slowed down simple operations and soon caused an aching joint in my left thumb - which was being bent to a 90° angle with each Back operation. Alas, as things stand, neither the M600i nor the P990i allows you to remap the side Back key to the internet key, on the right side of the phone, which means it's not possible to use the much more natural combination of thumb and index finger.
So, having comprehensibly alienated both right-handed users and left-handed users, what market is Sony Ericsson looking for? Obviously, it's people with two thumbs - or prosthetic hands.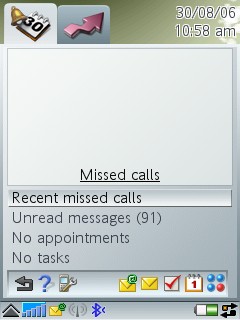 UIQ also tries to emulate the "transitions" as specified by the Sony Ericsson Central Committee of Silly Special Effects. Examples of these transition effects - quoted from the UIQ product description - include "a menu that slides on to the screen, instead of simply appearing on the screen" or "an icon that gradually blends in to the background and then disappears" and "semi transparent windows... which enable UI elements, like menus and dialogs... to let the screen area behind the window shine through."
As you can imagine, the last thing you want is for the screen area behind the window to "shine through", particularly when you can barely read a modern backlit LCD at all in bright sunlight. The default theme doesn't help - the overlaid UI elements are barely distinguishable from each other. These gimmicks took their toll on both usability - with alpha-blended edit controls the worst culprits - and performance. Several times I thought an icon had disappeared after I'd activated it - in fact the P990i was caught in the state where the icon had 'vaporized' - as the Special Effects Committee ordered - but the task or application it represents hadn't yet started. Menus are slowed to a crawl by the need to add 'momentum' as well as transition effects to simple movements. As we'll see in the performance discussion below, these net effect of all these transitions is to give a misleading impression that the P990i is underpowered.
If that isn't enough, UIQ3 now supports TrueType fonts, but in comparison to earlier P-series phones, the P990i's fonts are weakly rendered and look washy. And even at the highest zoom, the smallest font is still too large.
In the future, perhaps, UIQ's transitions will be as slick and speedy as those on Sony Ericsson's feature phones. For now, it looks like a Bob Godfrey cartoon - and users must have the option Windows XP offers, to turn the transitions off.
This is a long list of negatives, and it's a pity because they're self-inflicted wounds. A newcomer to the smart phone business might be forgiven for a few such interface design decisions, but Sony Ericsson already had a successful design, and chose to break it. The next version, UIQ 4 should continue where UIQ 2.1 left off, but this time remember that in good design, as with good engineering, less is more.
All this overshadows one of the P990i's strongest features, which is its predictive text implementation. Guess ahead look-ups are getting to be a fairly standard feature now, but thanks to the rich user interface, and particularly the jog dial, text input zips along. The phone also suggests what word you might want to type next, based on your previous input. Start a message with "This" and it remembers what you've typed "This is a test" before, suggesting "is", "a" and "test".
It's a little spooky at first, and poorly implemented could be very creepy indeed, as it chooses its words for you. Who needs to think at all?
Sponsored: Minds Mastering Machines - Call for papers now open