Sony Ericsson P990i smart phone
How the mighty has fallen...
In the P990i, a combination of poor hardware design choices and confused thinking in the evolution of UIQ 3 makes for a frustrating user experience. In both hardware and software design, it's often trying to offer too many choices, while making common tasks more cumbersome. If cars were as hard to drive as the P990i is to use, traffic congestion wouldn't be a problem.
Here are a few examples of unnecessary clutter.
UIQ 3 now features a Task Manager. But, incredibly, it's a dialog box with two tabs - Recent and Open - the actual task list being on the second, obscured tab. The Task Manager presents you with links to the Main menu, an Activity menu, and a list of your most recently used applications. So you need to get out the stylus to... er... operate the task list. The ability to view the current weather conditions in Ulan Bator from the Task Manager only just missed the cut, we understand.
Even if you're an experienced P-series user, you may be surprised by the avalanche of menus and dialogs. In addition to the main applications deck, there's a My Shortcuts list - similar to the quick-and-dirty, configurable shortcuts list on some recent Sony Ericsson's feature phones such as the K800i - and an Outlook-style Today menu, giving you a count of recent calls, unread messages, and tasks and appointments. In flip-closed mode, there's a yet another permanently accessible pop-up menu that manages connections, prompts you to start a new task, or manages alarms and the sound volume.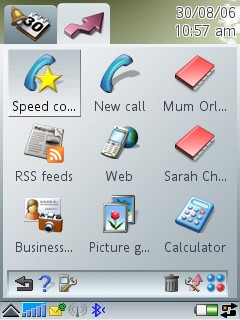 The My Shortcuts screen is one tab of a two-tabbed dialog box. The other tab is Activities. Why? We have no idea
It took some time to get comfortable with this over-abundance of choice, and to discover the endless shortcuts. For example, in flip-closed mode, you can navigate to another two-paned screen - a truncated selection of shortcuts, and the Today menu - with a long press on the D-pad's right selection key.
It's as if UIQ's designers decided to incorporate every feature of every third-party utility into the platform. And Sony Ericsson, unable to decide what was important, simply included every feature.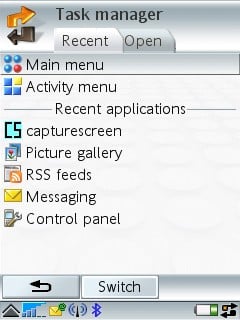 The "Task Manager" is another two paned dialog. But if you want to manage some tasks, you have to get to the other tab. Have a biscuit, UIQ!
In addition, some of the design decisions look petty, if not outright sadistic.
For example, as before there's a menu 'carousel' of five choices on the default screen. And as before, rotating the jog dial cycles through these choices. But for some reason, UIQ's designers don't now label the currently selected icon. So are those yellow blocks the icon for the Today screen and the round balls the icon Applications menu, or the other way around?
You'll just have to guess.
Sponsored: Minds Mastering Machines - Call for papers now open