TomTom ships a pair of Ones
One-touch GPS gagdet updated
Satellite navigation specialist TomTom today found its way to releasing the successor to its TomTom One GPS gadget, rolling out two versions of the next-generation product: one for pan-European travellers, the other for drivers motoring around Britain.
The new models use the SiRFStar III GPS chipset and a 266MHz processor. Behind the 3.5in, 65,536-colour, 320 x 240 display sits 32MB of RAM and a Bluetooth 2.0 adaptor to provide a speakerphone facility for mobile-phone users. Maps are stored on SD cards, and each unit comes with its own windscreen mount and ciggie lighter power adaptor.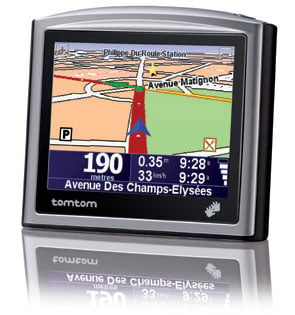 The new models weigh 174g. They measure 9.6 x 8.2 x 2.5cm and "fit in any shirt pocket", TomTom said - handy for owners, since GPS units are becoming increasingly desirable to thieves.
TomTom is still offering the original TomTom One, which despite being larger than the new versions is based on a faster processor, presumably allowing it to calculate routes more quickly. It retails for £280 - the Europe-wide TomTom One Europe costs pound;269, while the TomTom One Regional retails for £199. ®
Related reviews
Fujitsu Siemens Pocket Loox N100 handheld GPS
CoPilot Live 6 for Symbian
Mio A701 GPS smart phone
Navicore Personal 2006/1 smart phone GPS
Sponsored: Are DLP and DTP still an issue?