Core 2 Duo jargon decoder
Intel's dual-core technical talk translated
Intel's Core 2 Duo may be the world's most advanced desktop microprocessor, but like all those that have come before it - and almost certainly those yet to appear - its arrival is accompanied by a veritable dictionary of jargon and tech-talk. Baffled by 'Digital Media Boost'? Can't get your head around 'Viiv'? Look no further than our plain-English guide...
Advanced Smart Cache (ASC)
Intel says: "Smart Cache provides a higher-performance, more efficient cache sub-system that's optimised for multi-core and dual-core processors."
We say: All processors have their own memory - the cache - to record frequently used data so the information can be grabbed more quickly. Add a second core to the CPU and you need to add more cache. Each core can have its own cache, but ASC allows them to share all the available cache memory in whatever way that makes most sense for each core's workload. That allows the two core to operate more efficiently, which means faster processing for you.
Digital Media Boost
Intel says: "Accelerates a broad range of applications, including video, speech and image, photo processing, encryption, financial, engineering and scientific applications."
We say: Core 2 Duo increases the rate at which SSE, SSE 2 and SSE 3 128-bit SIMD instructions can be processed so that each takes a single clock tick to execute rather than the two or more clock cycles they've taken in the past. Media processing code, security, engineering and scientific applications all stand to benefit, as will games.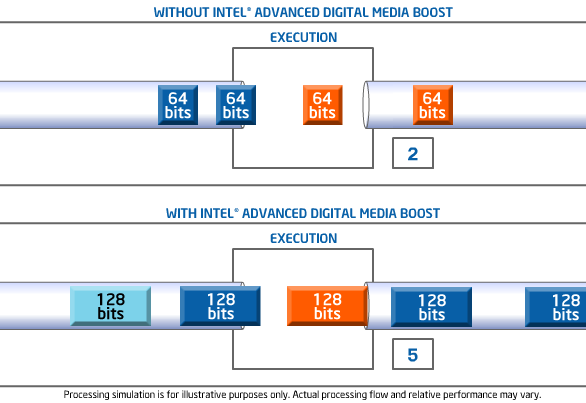 Enhanced SpeedStep (EIST)
Intel says: "Enhanced Intel Speedstep Technology allows the system to dynamically adjust processor voltage and core frequency, which results in decreased power consumption."
We say: EIST allows your processor to slow down to a speed that's appropriate for the task you're performing, and to speed up again when it needs that extra welly. You always get the processing power you need but without using excess electrical power - for which read 'battery life', if you're a notebook user. It also means your machine doesn't run hot, allowing its cooling fans to run more quietly.
Sponsored: Minds Mastering Machines - Call for papers now open