TrendNet ClearSky Bluetooth 2.0 Skype handset
Cordless VoIP calls
Review The time will surely come when someone ships a really sexy Skype-friendly handset. Until then we'll have to make do with gadgets like TrendNet's ClearSky. But what this device lacks in looks it makes up for in functionality: not only good integration with the Skype service itself but also a Bluetooth wireless connection for cordless calls...
TrendNet's a US-based company that focuses on networking and connectivity products. It's like Linksys or Netgear, just less well known. The ClearSky is part of its Bluetooth product range. The handset's kitted out in the company's trademark metallic blue and it's about the size of a mobile phone circa 1997.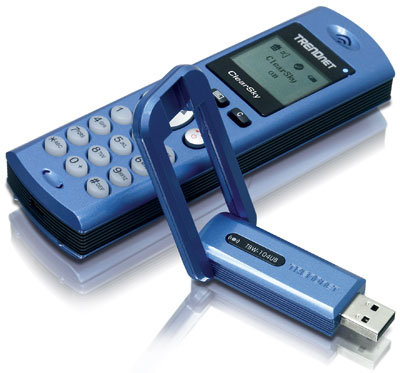 The display is a four-line, 94 x 64-pixel monochrome job, the keys flabby. That said, it's comfortable in the hand and easy to use. In addition to the customary numeric buttons and the call make and break keys, there are dedicated Skype contacts and Menu buttons. Alongside these two is a Back button and below them a simply two-way navigator control for moving up and down the menu.
Round the back of the phone is the speaker and the battery compartment. The 700mAh cell is removable and charged through the handset's mini USB port - no AC adaptor is supplied. TrendNet claims the handset's battery is good for more than six hours' talk time and will last for over 60 hours in standby mode.
The left side of the phone is home to a volume rocker switch and, beneath a rubber bung, an earphone socket. Alas, this is a 2.5mm socket, not the more commonplace 3.5mm size, so you'll need an adaptor. But it does at least mean you can record Skype-hosted conversations on an external device.
Pressing the '4' key mutes the microphone during calls. This is a handy feature but one you can only discover by reading the PDF-only manual - there's no icon on the handset. Pressing '6' re-activates the microphone.
The device provides four, very basic ringtones, none of which are particularly attractive, and there's no way it seemed to link them to specific Skype contacts or groups of contacts.
The ClearSky ships with its own, rather chunky Bluetooth 2.0 adaptor, handy for folk without on-board Bluetooth but optional for those of us with suitably equipped computers. So I thought, but I couldn't get it to work with the Bluetooth 2.0 radio built in to my notebook. TrendNet claims the handset is compatible with Bluetooth 1.1 and 1.2 devices, and I was able to connect it to a Mac's Bluetooth 2.0 port as a generic wireless headset - TrendNet's software isn't compatible with the Mac version of Skype - and I could do the same thing on a Windows machine. What I couldn't do was get the software linking the Skype application to the phone to operate with the built-in Bluetooth hardware.
TrendNet's software is closely tied to the Toshiba Bluetooth system software stack that ships with the handset. If you skip the installation of the latter, essentially by aborting the installation process once it's installed the ClearSky utility and the Skype driver, the ClearSky utility won't run at all. If you do install the Toshiba code, ClearSky explicitly checks to make sure it's running and connected to the bundled adaptor. So if you've already got Bluetooth and you hope to be able to leave TrendNet's dongle in a drawer, think again.
Personally, I found this profoundly irritating. I don't like using hardware I shouldn't need to use or, more importantly, installing software I shouldn't really need to have to install. By all means provide a solution for consumers who don't already have Bluetooth, but those who do shouldn't be forced to run two Bluetooth stacks unless they specifically want to. There doesn't appear to be anything the Toshiba code does that Windows XP doesn't, nor is it any easier to use.
With the adaptor in place, the connection between Skype and handset works smoothly. The software that links Skype to the handset is correctly loaded, allowing you to display your Skype contacts, call history and SkypeOut credit on the device's small screen, and to change your status. The handset doesn't remember contact details, so you'll have to endure the short data-transfer period every time you power up the handset and get it to talk to the Skype app.
I found it worked exactly as you'd expect. Sound quality was good and conversations reasonably free of lag.
Using the ClearSky hasn't entirely convinced me Skype handsets are the way to go. Since you need an operating PC to run Skype, most of the time you're using the ClearSky in situations where you might otherwise use a Bluetooth headset. If you don't mind keeping your PC on all the time, the ClearSky does provide an alternative to a DECT phone. I'd have liked to have seen the inclusion of a charging cradle in the box to allow the handset to live away from the PC. I'd also like to see the handset able to talk to integrated Bluetooth radios, sparing some of us from the need to use the adaptor.
Verdict
TrendNet's ClearSky Skype handset isn't the most attractive of phones, but it works and is well integrated with the Skype service. It's let down by its insistence that you use the supplied Bluetooth adaptor and that there's no recharge cradle, which leaves you messing around with USB cables whenever you want to top up the battery. ®
COMMENTS
Even cheaper wireless Skype telephone (not BT)
Hi, I read your article with interest, but maybe you hadn't heard of this product yet : http://www.eshop.nl/product_info.php?products_id=134329
> I have nothing to do with the manufacturer or e-shop, it's just the first link I found on good ol' google.
I bought one of these a few months ago, and it works a treat under Windows, but with somewhat less functionality under Linux (my system).
It sports a USB-powered charging cradle and can do powerless standby for a couple of days. I gave it to my mother because of its ease of use and clear display.... :)
Cormac,
The Netherlands